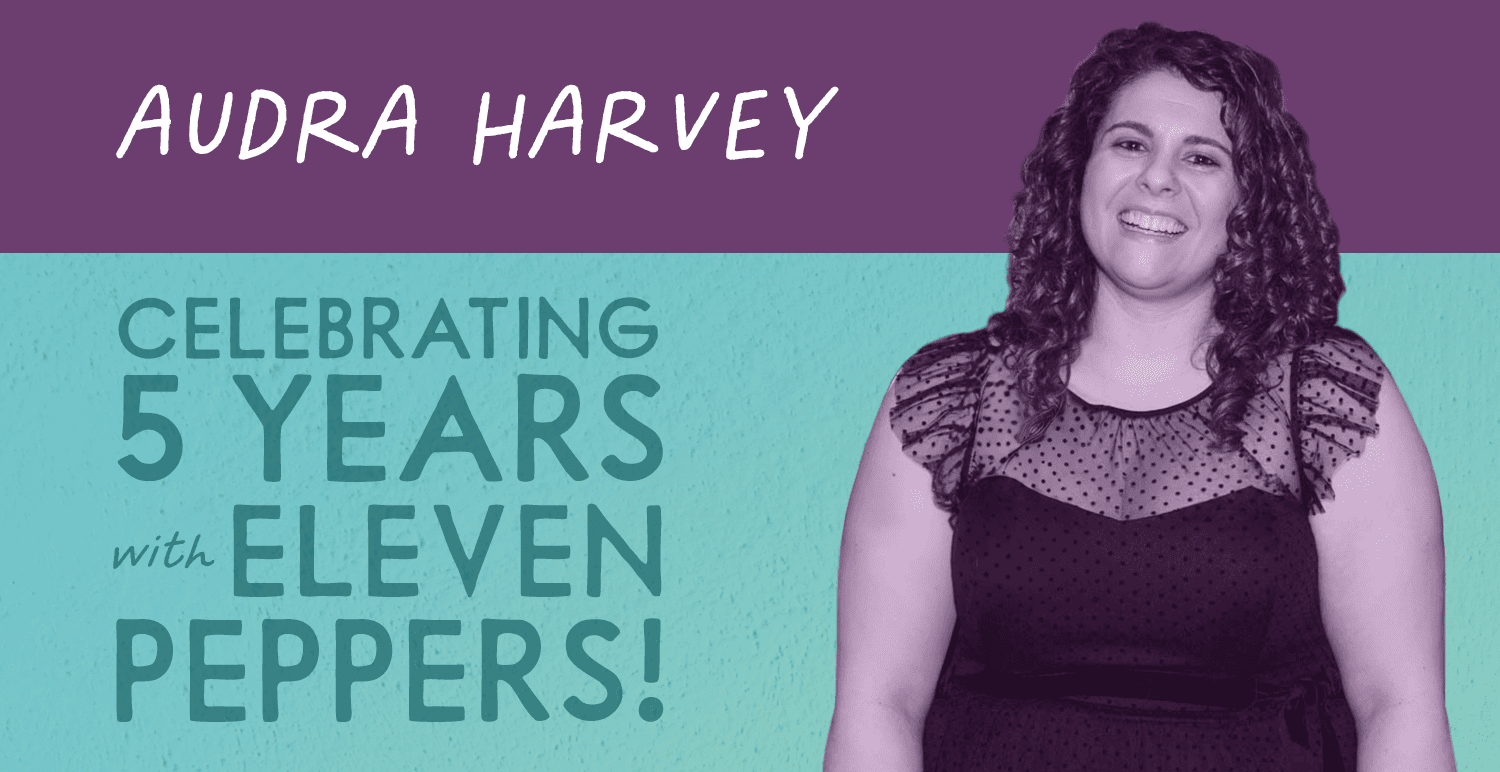 Celebrating 5 Years: Audra Harvey
And just like that… Audra Harvey has officially been a Pepper for 5 years!
Audra is known for her innovation, creativity, and thoughtfulness. She is always pushing her team to the next level, and her hard work is helping define the next generation of analysts' tools in technology.
She is resilient, always up for learning something new, and a great collaborator. Audra is the kind of designer you hand a project to and she's off to the races.
To learn more about Audra, keep scrolling to read our special interview and infographic!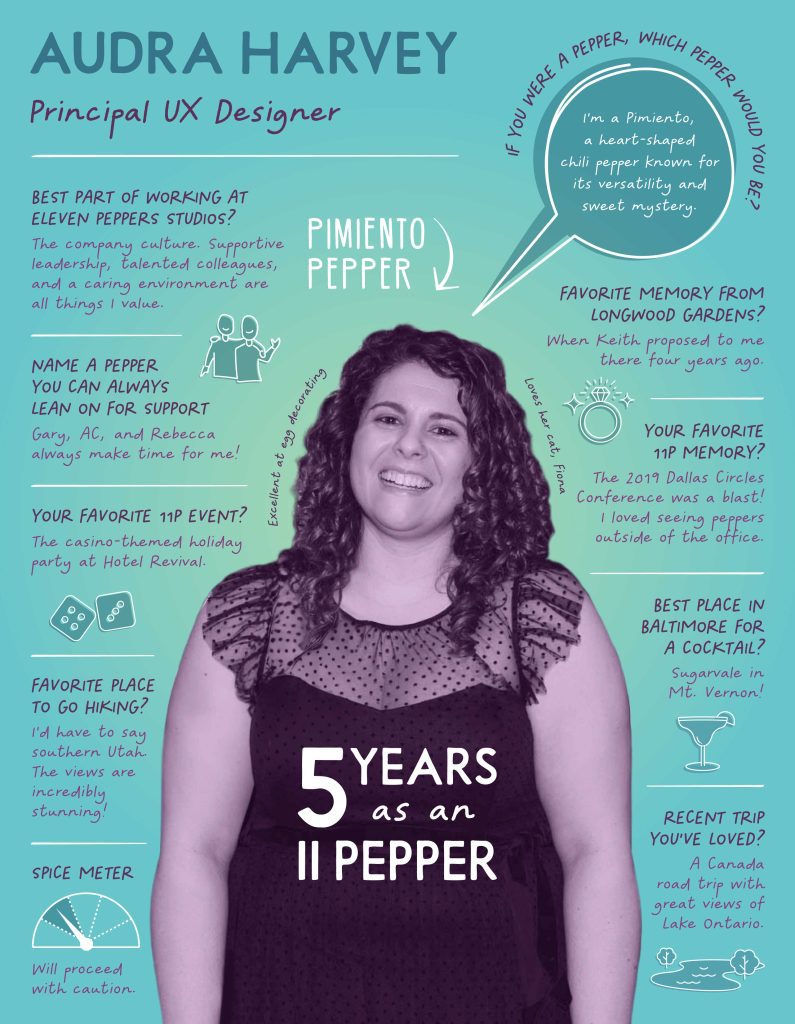 1. Best part of working at Eleven Peppers Studios?
The company culture. Supportive leadership, talented/dedicated colleagues, and a caring environment are all things I value and don't take for granted.
2. If you were a pepper, what type would you be and why?
I'm a Pimiento, which is a heart-shaped chili pepper that is typically sweet. In Spain, they consider it to be a triple threat because it's incredibly versatile – it can be a garnish, an ingredient, or a spice. My favorite thing about the pimiento is that certain varieties have different heat levels, so one in ten can be quite spicy. It might be the only pepper that has an air of mystery.
3. What is your favorite 11p event?
I had such a great time at the casino-themed holiday party at Hotel Revival. I was brand new to 11p at the time and didn't know many people there, but everyone was so nice and welcoming. The hotel was such a cool venue, and right down the street from my old apartment!
4. What is your favorite present ever received from 11p?
I won the highest cash prize in the Alice in Wonderland-themed holiday party scratch-off lottery! That was pretty great.
5. What is your favorite 11p memory?
The 2019 Circles Conference in Dallas was a blast. The sessions were inspiring, and getting to know everyone outside the office was really nice. I remember the After Party being particularly fun for our group, with multiple photo booths, rounds of cornhole, and a dance floor.
6. Name a Pepper you can always lean on for support or advice:
There are so many! If I narrowed it down to just my current team, I'd say Gary Palmer, AC Hawes, and Rebecca Popka always make time for me when I need some guidance.
7. Name a Pepper whose work ethic inspires you:
Kelsey Marotta. I am seriously in awe of everything she does.
8. My spice meter :
Complete wimp
Will proceed with caution
A subtle flame
A little sweat never hurt
The spicier, the better!
Getting to know Audra a little better...
1. What do you enjoy most about living in Baltimore City? And where is your favorite place to get a cocktail there?
I've lived in Baltimore for more than half my life, and it's had its ups and downs, for sure. But I love the city's energy and how all the neighborhoods have something different to offer. I also appreciate having easy access to independent businesses and restaurants. There are a ton of places to get a fantastic cocktail, but one of my favorites is Sugarvale in Mt. Vernon.
2. What's a trip you've taken recently that you really enjoyed?
My husband, Keith, and I took a road trip to Canada last spring and spent a couple nights in a town called Niagara-on-the-Lake. The area is known for its gorgeous views of Lake Ontario and over 50 wineries. We also stayed in Niagara Falls (Canadian side) for one night, and we could see both the Canadian and American falls from the balcony of our hotel room. I was not expecting it to be so impressive, but it really took my breath away – especially when the falls were lit up at night.
3. What do you love most about your cat, Fiona?
Fiona is pretty special. We adopted her from the SPCA earlier this year as an 8-month-old kitten, and quickly found out that she had some health issues. She's struggled with severe anemia, to the point where we almost lost her. But she surprised everyone by completely rebounding (with help from medication and a blood transfusion – thank goodness for pet insurance!) into the sweet, rambunctious girl she is now. We call Fiona a squirrel monkey because she has lots of energy, lives for treats, loves to climb, and has a bushy orange tail that she flicks around when she's trying to get our attention. She would make a great honorary Pepper because while she's beloved at our vet's office, she's also been labeled as a "spicy" patient due to her independent attitude. She likely has a chronic autoimmune disorder, which is difficult to diagnose in cats, but we're hopeful we can help her manage it and she'll have a long life with us.
4. If you had to guess, how many times have you been to Longwood Gardens? Do you have a favorite memory from there?
Longwood Gardens is one of my absolute favorite places. I'd say maybe around 30 times? My family has been going to see the holiday lights and fountain shows since I was very young. As an adult, I've sometimes gone twice a year to see the gardens in different seasons. I have so many good memories at Longwood, but my favorite has to be when Keith proposed to me there four years ago.
5. Baked anything good recently?
Fall is the best baking season! I love the spices, especially anything heavy on cinnamon. I currently have zucchini bread and pumpkin bread on rotation, and I'm looking forward to trying out some new pie recipes for the holidays.
6. What's your favorite design you used for decorating Easter eggs? My family makes fun of me because I take egg-decorating very seriously. We've tried a lot of creative methods that were not all successful – gold leaf, nail polish, washi tape, watercolor, etc. But I think my favorite year was when we used temporary tattoos. They were all different geometric, metallic shapes, and the outcome was unique.
7. Where is your favorite place to go hiking?
I'd have to say southern Utah. My dad's family is from the Salt Lake City area, so I've spent a lot of time in the northern part of the state (which is beautiful). But when my friend got married in St. George in 2018, we had a great excuse to see some National Parks in the southern region. We hiked at Zion and Bryce Canyon, and I've never seen anything like those rock formations in my life. It's just stunning. We hiked part of Angel's Landing, and it was the hardest hike I've ever done. But the view at the top was so worth it.