With two weeks left to get your holiday shopping done, we've put together some gift ideas that will be perfect for any type of creative person you have on your list! Happy shopping!
---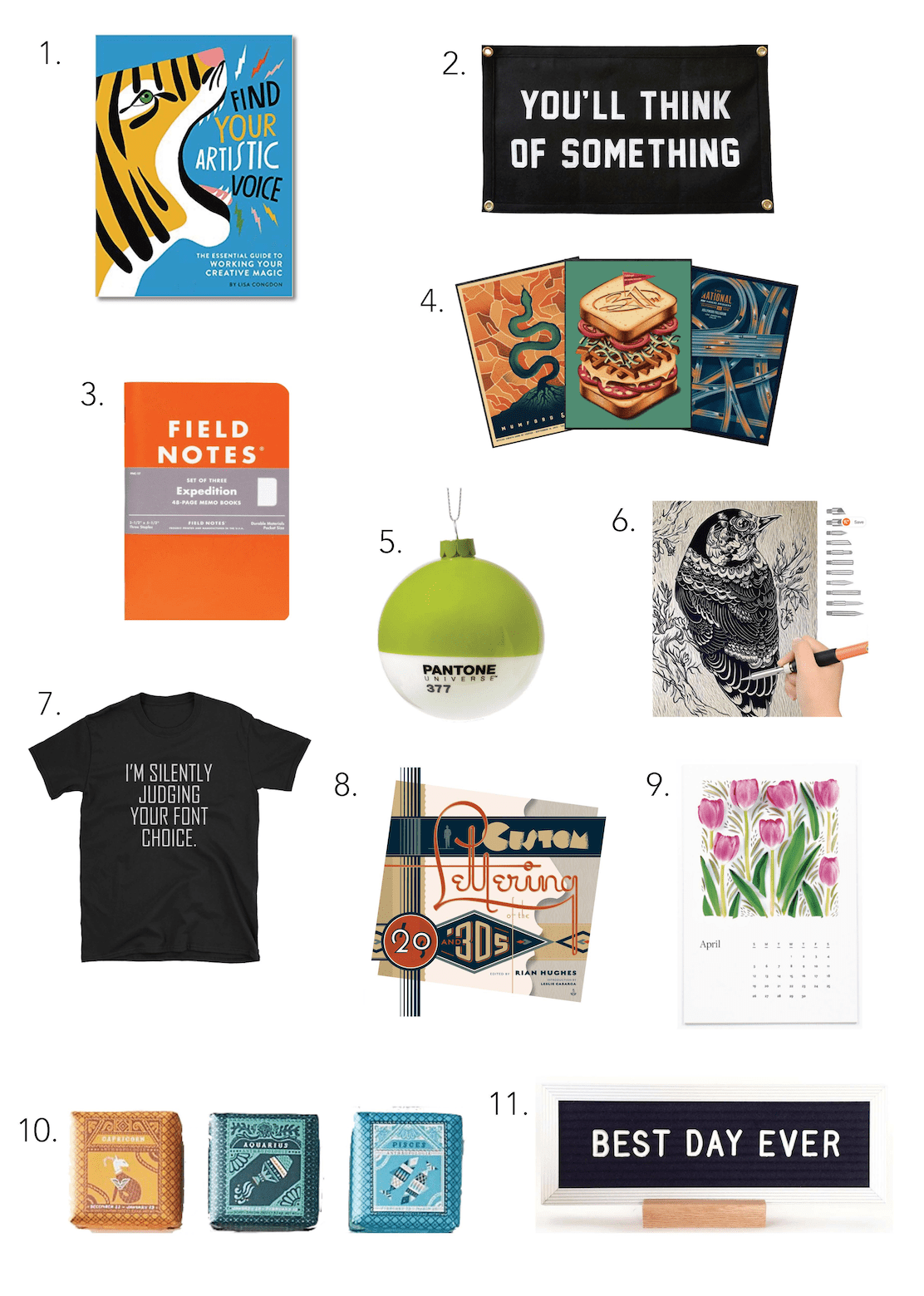 Find Your Artistic Voice: This book is intended for every category of artist. Whether you are just starting your artistic journey, are right in the middle of it, or are rejoining after a hiatus, this book will provide encouragement and motivation.
"You'll Think of Something": This decorative banner will serve as a reminder that when the creative juices stop flowing, or your back's against the wall, don't fret; You'll think of something.
Field Notes®: This latest innovation features tear-proof and waterproof paper so that you can take notes no matter where you are.
Gig Posters: 18×24 limited edition posters from your favorite bands. Designed by DKNG, signed and numbered!
Glass Ornaments: Take tree decorating to a whole new level with these Pantone collectible glass ornaments, available in a variety of colors.
Wood Burning Kit: This collection of tools features a wood burning pen, 17 wood burning tips, a sharpener, a wood burning pen holder and 12 stencils to customize your DIY wood projects.
Graphic Designer T-Shirt: A funny, cute t-shirt that will make any artist laugh. "I'm silently judging your font choice."
Custom Lettering of the 20's: This unique publication collects over 4,500 examples of custom lettering from the heyday of Art Deco and the experimental modernity of the Futurists.
2020 Botanical Garden Calendar: A gorgeous yearly calendar featuring beautiful images of flowers that will brighten any workspace.
Zodiac Bar Soap: Featuring luxe packaging designed by Danielle Kroll, these soaps features decadent scents of jasmine, rose, and sandalwood.
Desktop Letter Board: Express yourself with this fun, functional, interchangeable letter board perfectly-sized for compact messages.