Before there was Apple Music, Tidal and Spotify, there was Pandora. Pandora has become one of music's leading streaming services that works like a radio, but provides stations based on listeners preferences. With the company's launch of Pandora Plus, they also unveiled a new logo:
"Music is a personal experience for everyone, from the artists creating it all the way to the fans listening to it. And as Pandora continues to evolve the most personal music experience, our new look embraces the dynamic range of sound and color, visualizing the energy and emotion that artists pour into the creation of music, and that we feel as listeners. Our dynamic brand is composed of form, color and pattern, which we implemented into the new P icon and serves as your portal into the unique and diverse range of music you love." – Pandora Blog Post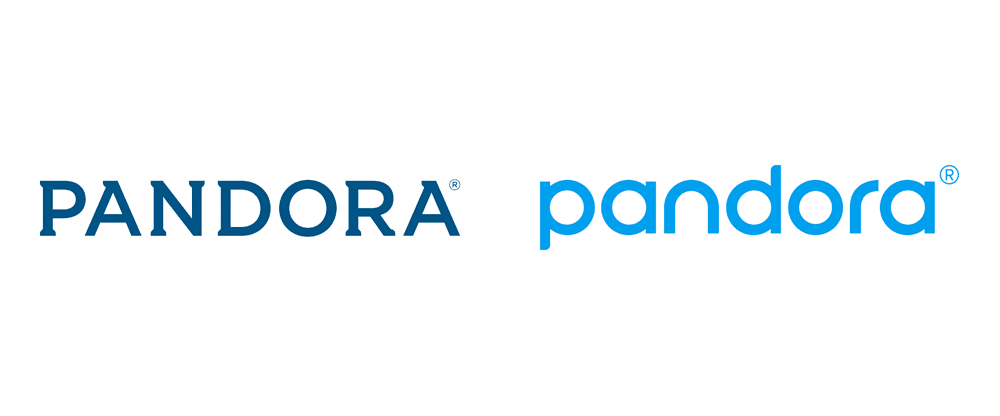 Image Source: Pandora (Left: old wordmark, Right: new wordmark)
Are we missing something? We totally get that Pandora wanted to move away from their old wordmark, which was classy but a little dated. But the new wordmark– quite frankly– is just bland. We can appreciate that the letters are proportional and attempt to weave in a subtle curve, but overall, we can't get past the complete lack of personality, which seems counter to what Pandora said they wanted. In contrast, the Monogram appears to have sucked all the visual interest from the wordmark and hoarded it, leaving the wordmark to serve, we suppose, as an empty "portal" into the "unique and diverse" Monogram? The Monogram is great, we can 100% see the potential of where it is heading, we just can't see how the wordmark could ever stand alone.
Image Source: Pandora (new Monogram)
On that same thread, we'd like to point out that it is just confusing as anything to have the Pandora and PayPal apps next to each other on your phone; they are so similar!! Why does PayPal all of a sudden care about our musical interests? Oh wait, we just clicked on the Pandora app by mistake. Our bad… or is it?

(Second from the Right: PayPal app, Right: Pandora app. Shown on an iPhone7)
Don't get us wrong, we love that Pandora wants to keep things fresh, to evolve and grow with their audience's tastes but we think they need to keep experimenting with this one.