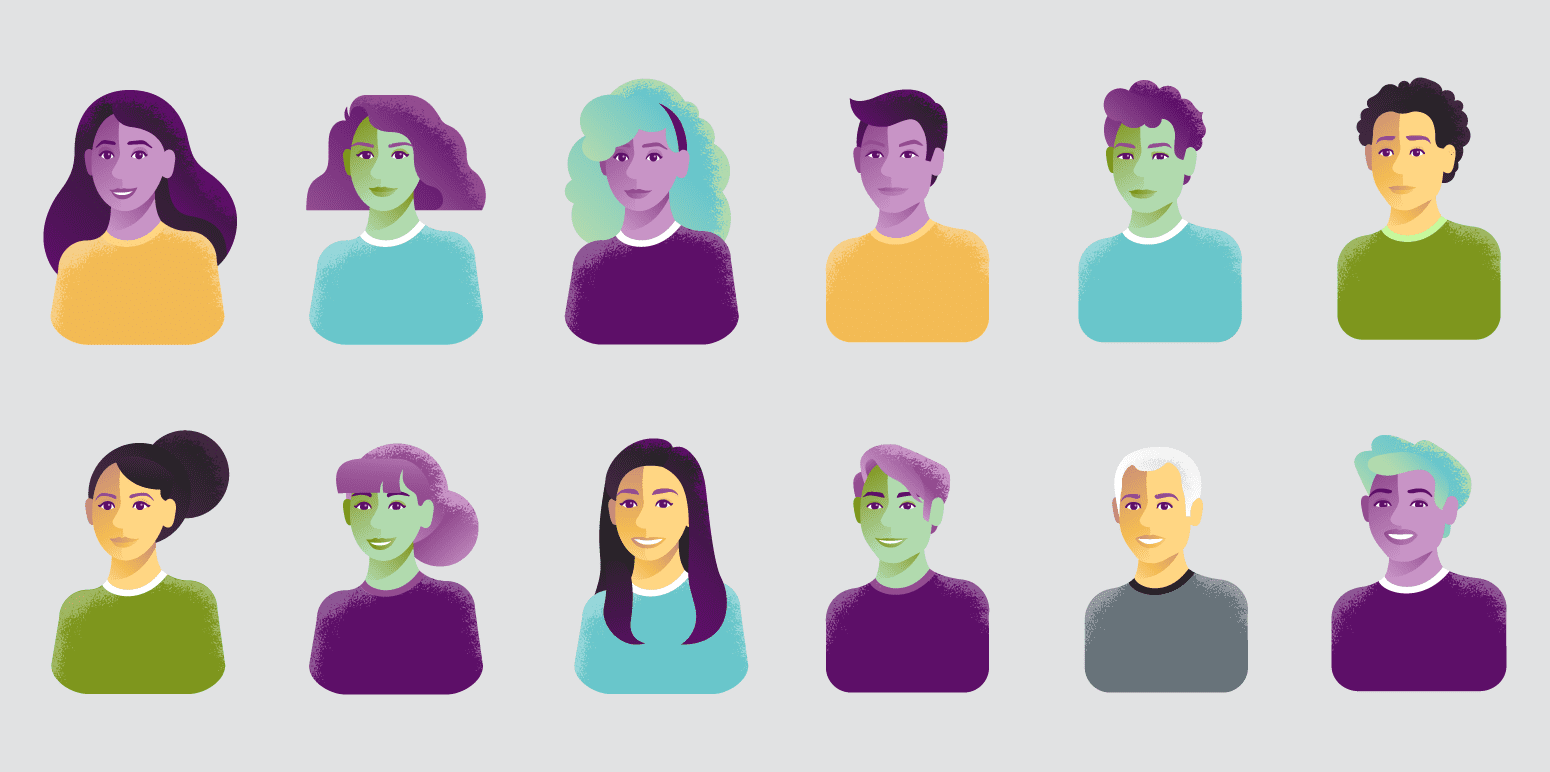 11P'S Illustration Style Guide
This year, we put our heads together to develop a beautiful, inclusive, and functional illustration style guide for Eleven Peppers. Below is a sampling of elements we included, along with factors that guided our process.
THE IMPORTANCE OF ILLUSTRATION
Illustration is a great tool to use when photography or other graphical elements aren't possible or don't make sense. You can illustrate a visual metaphor to demonstrate a value that might otherwise be difficult to communicate.
Perhaps the strongest benefit of using illustration is its storytelling ability. Rather than using photography which is limited to real-world possibilities, illustrating a story opens up an entire universe – any character, scene, or message can be conveyed in any way you can imagine!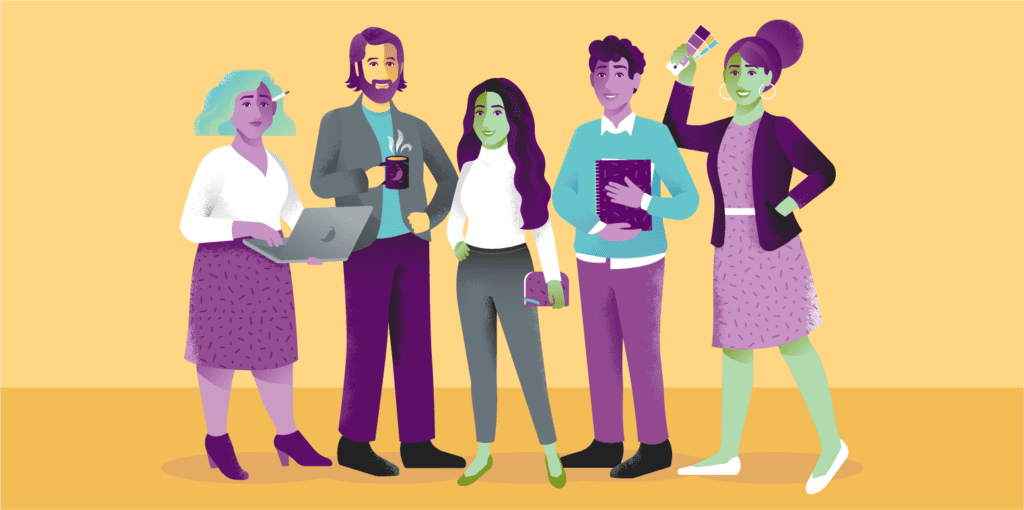 Using illustration strategically can add nuance, depth, and richness to an otherwise ordinary object/scene. When used for human figures, it can convey subtle or extreme personality traits. Illustration elements like color, texture, pattern, shape, level of detail, and composition can control your desired message.
PRINCIPLES OF 11P ILLUSTRATION
Custom designed illustrations have played a big role for our 11P brand. Illustrations have assisted us in conveying our uniqueness and our company's vibrant, fun, and friendly culture. This energy and originality is what guided our illustration aesthetic – down to the tiniest detail. In order to ensure that our illustration style truly represented us, we made sure it embodied the following principles:
Light & Punny
At 11P we like to keep it light and fun, just like our funfetti circles or our Pepper dude.
Energetic
Personality, personality, personality! Illustrations should have an attitude and ours is up-beat!
Creative
Boring? No way! We always add a little zest to everything we do.
Diverse
Each person brings something completely different to the table. Our diversity is our strength.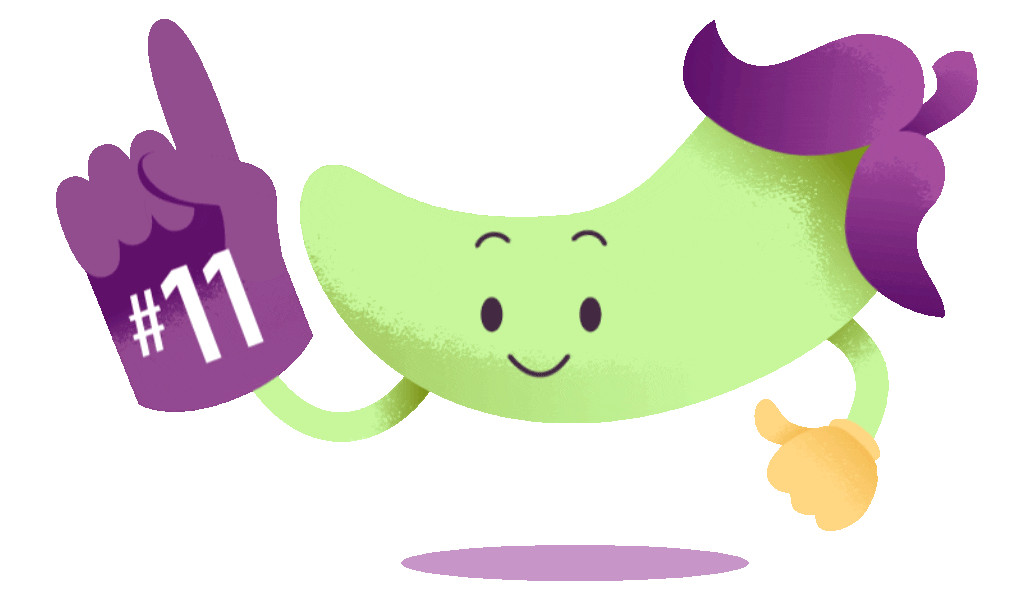 KEY ELEMENTS OF OUR ILLUSTRATION STYLE GUIDE
An illustration style guide is crucial when establishing brand consistency! Having clearly defined guidelines also speeds up production, so designers can keep their focus on concepts and messaging rather than aesthetic. Below are key elements we included to streamline our illustration design process.
Colors
We knew we had to include a wide range of colors to represent the diversity of our team. Staying true to our original brand colors, we simply defined how each color would be used in regard to skin tones and hair colors. We also included a detailed complimentary brand palette to assist in illustrating dimension on objects for maximum impact.

Texture
Texture is another powerful tool to add personality to brand illustrations. We opted to include a speckled brush, used to create depth via shadows and highlights. This element adds a "handmade" quality to an otherwise clean vector, communicating our hands-on, custom approach to challenges.

Pattern
Our 11P "funfetti" pattern is great for filling in objects with a bit of interest – for instance, on clothing or a backdrop. It's like a sprinkle of our playful attitude.

Shape
The vector shapes are solid and crisp-edged, but with soft curves. This style is clean, efficient, and flexible for all shapes. These strong shapes provide structure, balancing out the softness that comes from our palette, textures and fun patterns.

Characters
Creating a character library was a must so that any team member could easily grab features to create new, distinct characters to diversifying our character illustrations. We created an entire library full of different face shapes, facial features, figures and hairs styles – making it fairly easy for any team member to assemble a character under a time constraint.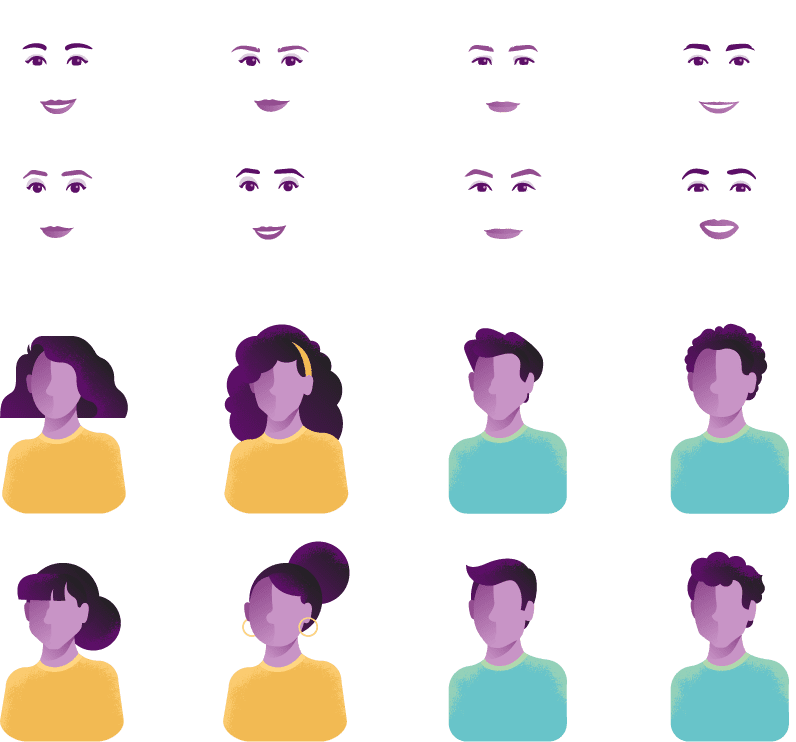 TAKEAWAY
Illustrations can add value to any brand by conveying the company's personality and voice in an approachable visual format that's easy for a viewer to comprehend. Custom illustrations should reflect the design and energy of the overall brand and should be consistent with designs and iconography used on all marketing materials.
At 11P, our illustrations play a key role on our website, presentations, advertisements, newsletters, social media, infographics, and videos. Having a clearly defined style guide assists in our success though all of these mediums!