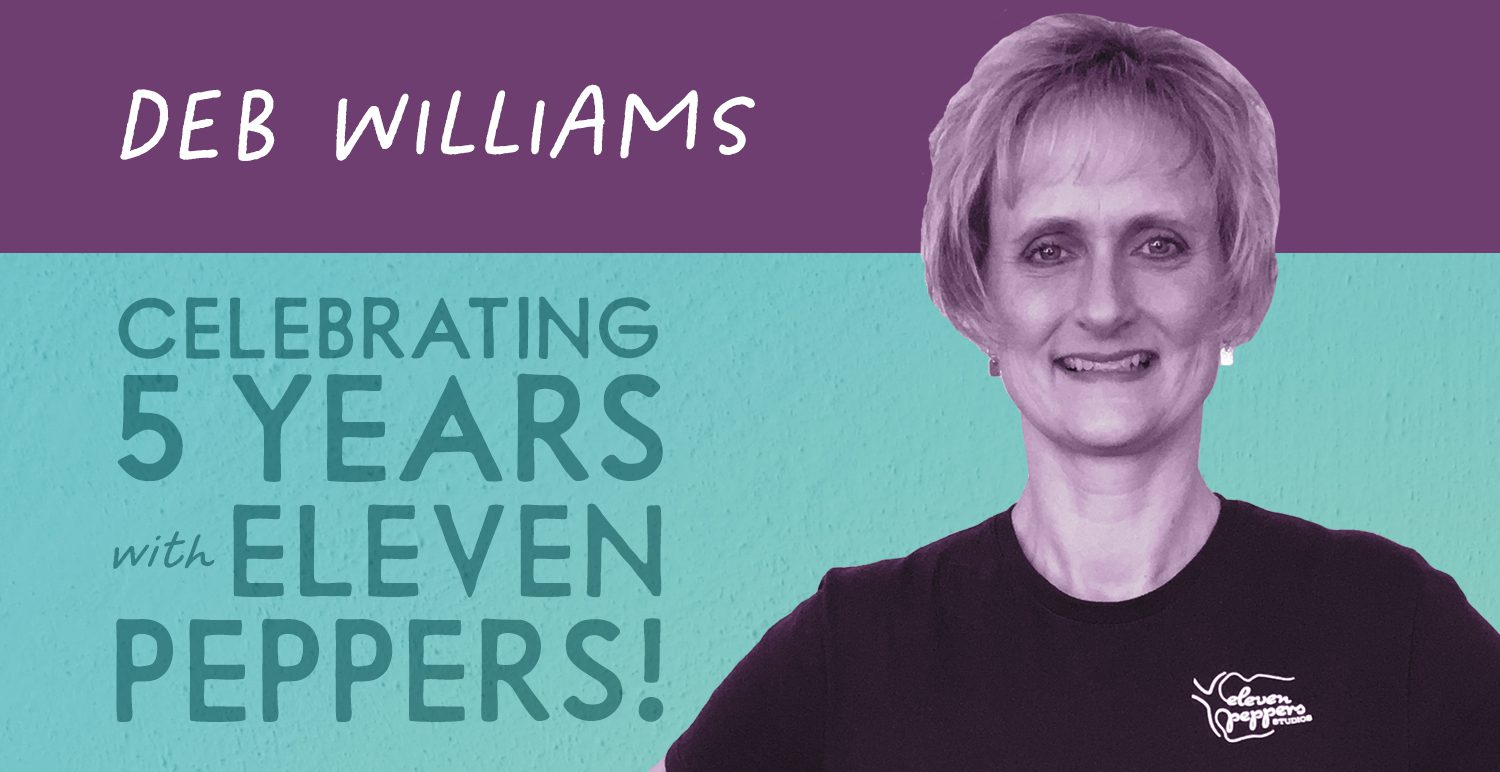 Celebrating 5 Years: Deb Williams
Five whole years have passed since the fabulous Deb Williams joined our Pepper family – and boy has it been an amazing journey.
Since day one, Deb has been an integral part of the team, helping with everything under the sun from proposals, to strategy and process, to leading teams and projects, and we couldn't be more grateful for all the hard work she has put in. She loves learning new things and tackles every challenge in front of her. Last year, Deb was promoted to Creative Director and in her new role, she has continued to lead teams and projects with excellence.
To celebrate all of her greatness, we interviewed Deb and created an infographic especially for her! Keep scrolling to learn more.
1. Best part of working at Eleven Peppers Studios?
Collaborating with so many talented, passionate people.
2. If you were a pepper, what type would you be and why?
Rainbow pepper because they are multi-colored and inspire creativity.
3. What is your favorite 11p event?
The casino-themed holiday party at the Hotel Revival in Baltimore.
4. What is your favorite present ever received from 11p?
A necklace with the names of my kids engraved on it (for Mother's Day).
5. What is your favorite 11p memory?
The amazing Disney trip!
6. Name a Pepper you can always lean on for support or advice:
Theresa Santelli – she's a great listener and provides invaluable advice.
7. Name a Pepper whose work ethic inspires you:
Kristen Price – she's always positive, patient, thoughtful, and eager to lend a helping hand.
8. My spice meter :
Complete wimp
Will proceed with caution
A subtle flame
A little sweat never hurt
The spicier, the better!
Getting to know Deb a little better...
1. Where is the most beautiful place you've ever gone hiking?
A coastal town in Southern Italy called Sorrento.
2. What is your favorite part about being a mom?
Watching my kids grow into confident, successful adults.
3. If you could live in any beach town, where would you live?
Duck, NC (in the Outer Banks).
4. What is your favorite and least favorite part of planning a wedding?
My favorite part is seeing the bride say "yes" to the dress. My least favorite part is figuring out the guest list.
5. Do you have any favorite family traditions?
Every year on Christmas Day we stay in our pajamas all day. It's our day to spend time together without any schedules or set plans.
6. Where is your preferred place to get a caffeinated beverage?
I love any and all coffee shops – my favorite is a place near our new house called Bada Bean Coffee House.
7. Have you made any cool crafts or done any cool house projects lately?
We recently bought a house on Kent Island had a lot of fun remodeling it with a coastal theme.
8. What's one thing most people don't know about you?
I've lived in six states: New York, Virginia, Delaware, New Jersey, Pennsylvania, and Maryland.