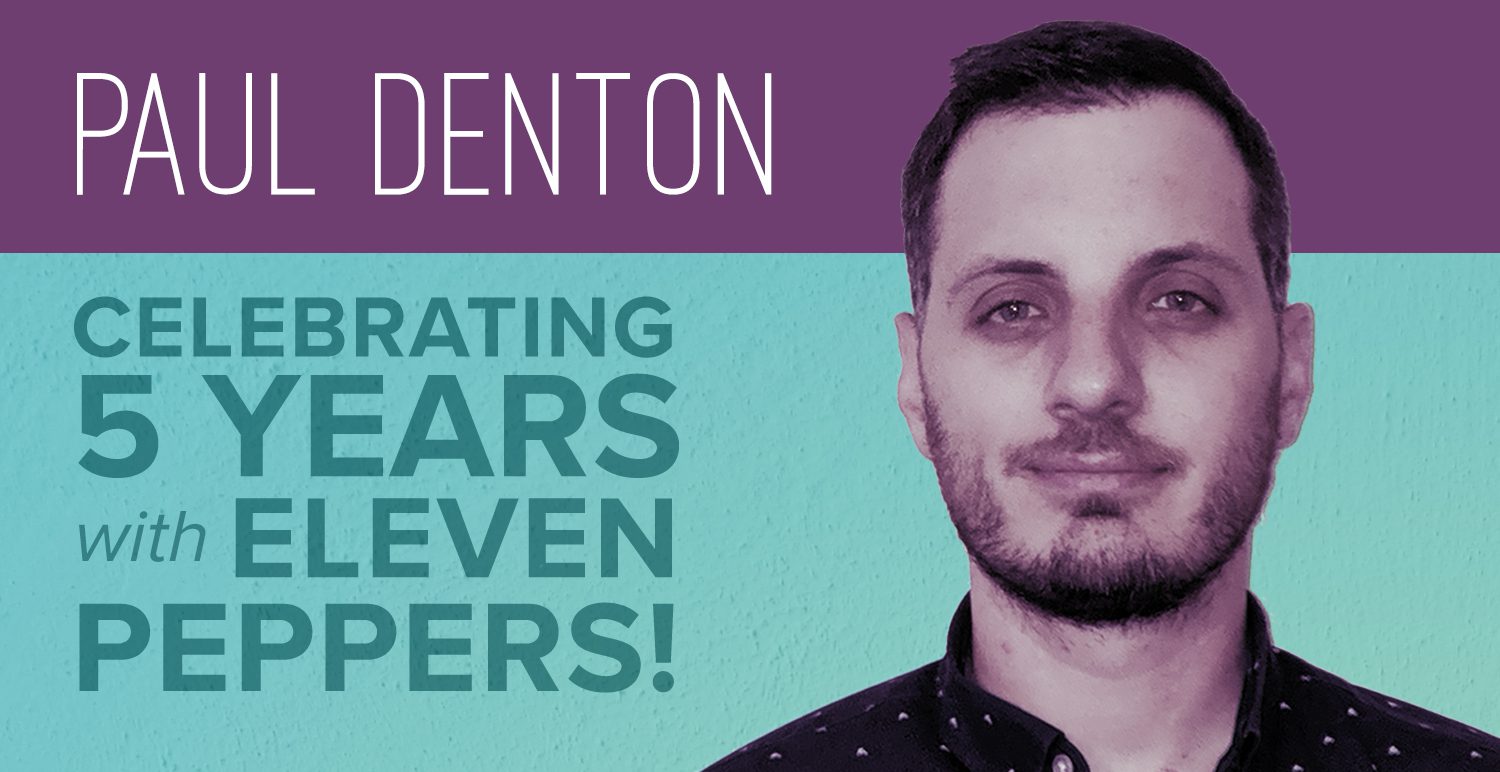 Celebrating 5 Years: Paul Denton
Time flies when you're having fun! We're excited to celebrate Paul Denton's 5th Pepperversary!
Paul Denton is 11p's humble master of code—the very first Software Engineer to join 11p–and he sure did set the bar. Several peppers had the pleasure of working with Paul at previous companies, and we were delighted to finally bring him aboard. In the last 5 years, Paul has earned the respect of his clients and peers, so much so that he has recently been promoted to a Principal Software Engineer. Paul has always had an appreciation of UX and design, making him a perfect addition to our creative team.
Fun fact: We have had the pleasure of witnessing Paul's adorable family expand throughout his tenure at 11p, from his first little boy, to a second little boy, to his third baby coming soon (a little girl!).
To learn more about Paul, keep scrolling to read our special interview and infographic!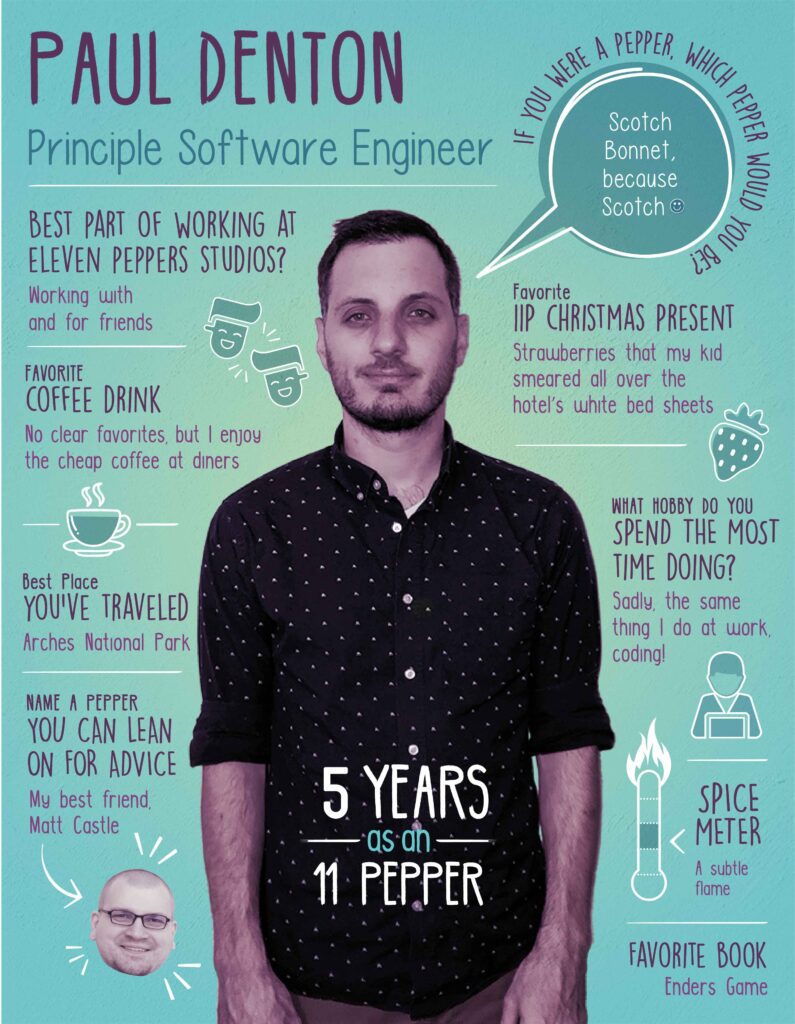 1. Best part of working at Eleven Peppers Studios?
Working with and for friends.
2. If you were a pepper, what type would you be and why?
Scotch Bonnet, because Scotch ????
3. What is a favorite 11P event?
Anything at Dave and Theresa's house is fun.
4. What is your favorite Christmas present ever received from 11P?
The strawberries left in our room for the 2018 Christmas party, simply because I'll never forget my kid getting into them and leaving red and brown streaks all over the hotel's white bed sheets. The cleaning crew had to love that.
5. What is your favorite 11P memory?
I tend to fondly remember the times I've done something super awkward, and being a nerd it seems to happen a lot. I'll always remember the time my wife and I were leaving a company outing at an O's game and instead of doing the handshake/ bro hug/ whatever, I went in for a regular hug with Bryan Parks. I still remember it in slow motion, thinking in my head, "Uh yea, am I really doing this?" Good times.
6. Name a Pepper you can always lean on for support or advice:
My best friend, Matt Castle.
7. Name a Pepper whose work or work ethic inspires you:
I know it takes a lot of time to run a company and not everyone can do it, so this HAS to be Kristen and Bryan. I've even had other business owners comment on how hard they've seen Kristen work.
8. My spice meter :
Complete wimp
Will proceed with caution
A subtle flame
A little sweat never hurt
The spicier, the better!
Getting to know Paul a little better...
1. Favorite type of coffee to drink?
No clear favorites, but I always really enjoy the cheap coffee at diners.
2. Where is the best place you've ever traveled?
Arches National Park
3. What's your favorite book of all time?
In answering this question I realize I need to find more time to read. The last thing I really enjoyed was Ender's Game.
4. What hobby do you spend the most time doing?
Sadly, the same thing I do at work, coding!