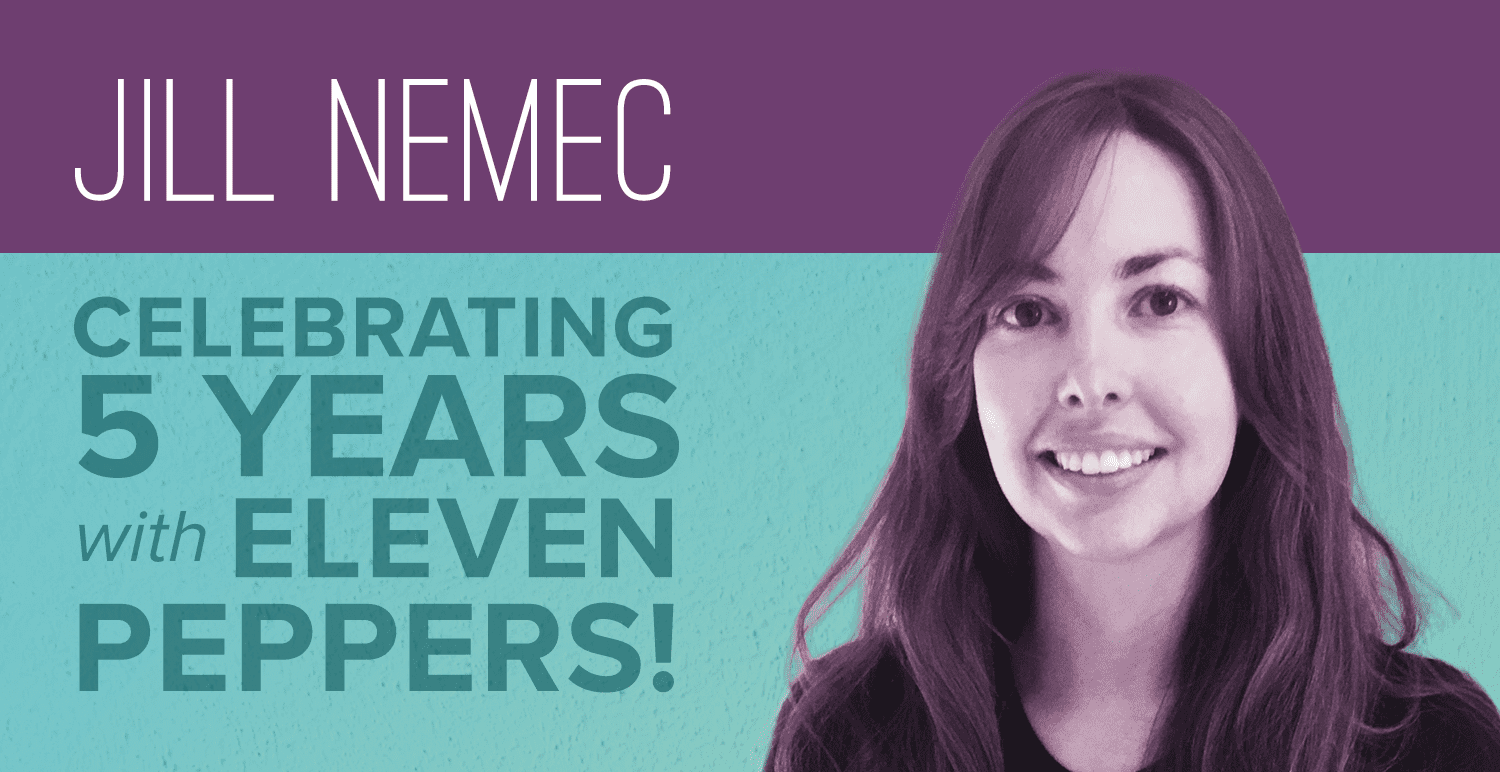 Celebrating 5 Years: Jill Nemec
We're thrilled to celebrate Jill Nemec's Pepperversary!
It's been 5 wonderful years since she took a leap of faith on us! Jill left the comfort of her home in Savannah, Georgia to move to Maryland and join 11p, in its infancy stages. Over the years, Jill has leveraged her awesome design and typography skills, and has now even broadened her skills into UX.
Jill loves traveling near and far to hike or ski. She's also an avid coffee drinker and rock collector.
To learn more about Jill, check out this infographic and read our special interview!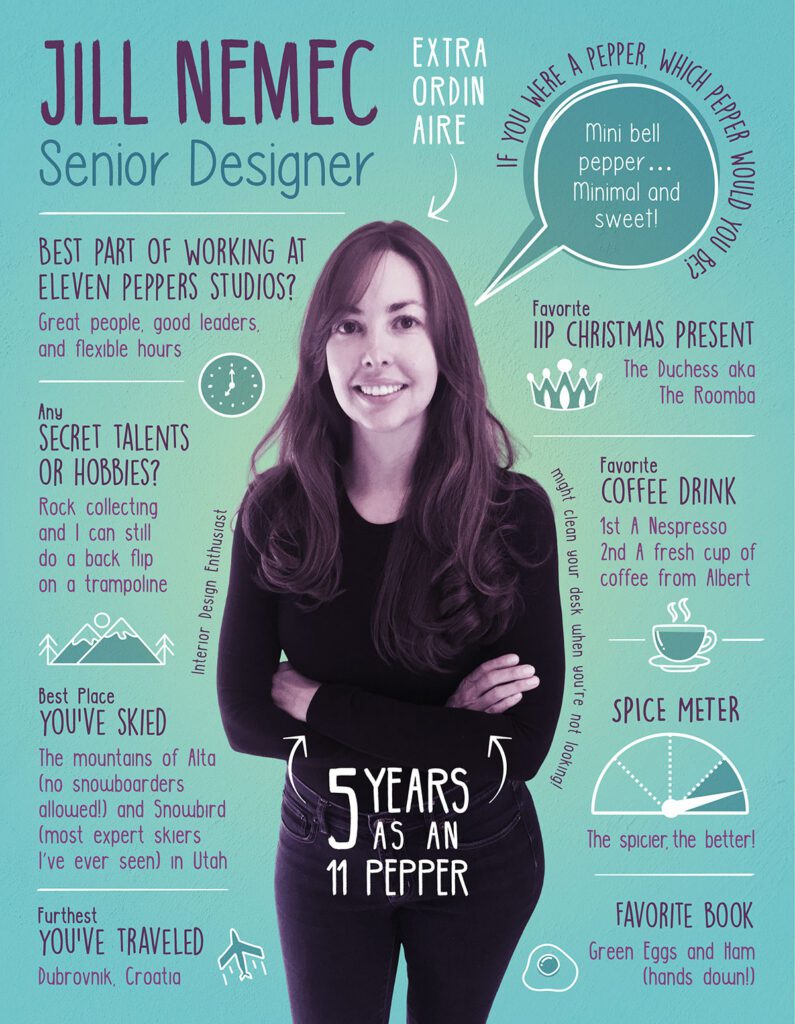 1. Best part of working at Eleven Peppers Studios?
Great people, good leaders, and flexible hours.
2. If you were a pepper, what type would you be and why?
Mini bell pepper… minimal and sweet!
3. What is a favorite 11P event?
Of course the holiday parties, but more recently I really enjoyed the Baltimore Coffee and Tea morning. Such a great way to start off a Friday with all those smiling faces!
4. What is your favorite Christmas present ever received from 11P?
The Duchess a.k.a. The Roomba.
5. What is your favorite 11P memory?
Any and all snow days!
6. Name a Pepper you can always lean on for support or advice:
It's hard to pick one… Kelsey has been a great desk mate for a "take a break" stroll and convo. And, Kathryn and Theresa are great listeners and advice givers!
7. Name a Pepper whose work or work ethic inspires you:
Easy, it's Kristen. She has inspired me since grad school when she decided one day she would start her own business. She didn't know what it would be then, but she made it happen! You can always count on her to come through and show up. And, I don't know how she does it with minimal hours of sleep and a smile on her face. She also exhausts me.
8. My spice meter :
Complete wimp
Will proceed with caution
A subtle flame
A little sweat never hurt
The spicier, the better!
Getting to know Jill a little better...
1. Any secrets talents or hobbies?
Rock collecting. And, I can still do a back flip on a trampoline.
2. Favorite type of coffee to drink?
First and foremost a Nespresso. Second, a fresh cup of coffee from Albert. But, mostly sneaking sips of Joey's vanilla lattes because it's more fun sharing!
3. Where is the best place you've ever gone skiing (snow or water)?
I don't know that there is a best… but when it comes to snow and some crazy slopes I'd have to say traversing the mountains of Alta (no snowboarders allowed!) and Snowbird (most expert skiers I've ever seen) in Utah with my nieces and brother.
For water it has to be where I learned to slalom… the bitterly cold water of the Columbia River in Washington. Of late it's Norris Lake, Tennessee for my old bones. The water is amazing and the perfect temp!
4. What's your favorite book of all time?
If it's favorite of all time then it's "Green Eggs and Ham" hands down.
5. What is the furthest you've traveled from home?
Dubrovnik, Croatia
6. How many trails have you hiked?
Geeze, who counts! I've been hiking the Appalachians and Cascades since I was a kid plus all vacations include a hike… probably 50+!?!