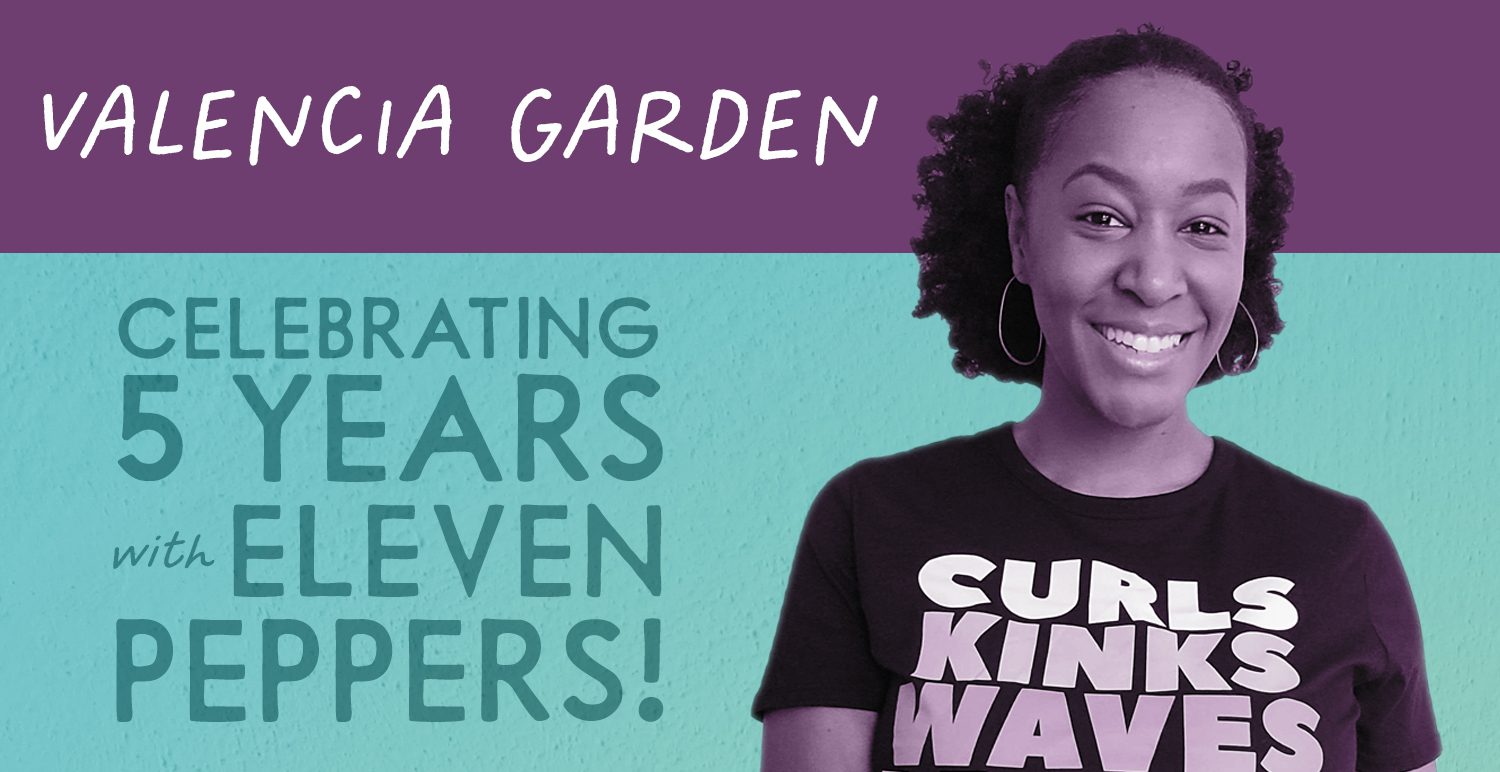 Celebrating 5 Years: Valencia Garden
Congratulations are in order for Valencia Garden – today is her 5 year Pepperversary!
As a Creative Director, Valencia works with her team to churn out award-winning work. Clients love her! Her willingness to learn new things or solve any problem is admirable.
When we asked her coworkers how to describe her, the word amazing came up a lot – amazing mom, amazing work, amazing problem-solving skills, amazing communicator, amazing teammate.
So without further ado, let's get into our special interview and infographic all about Valencia!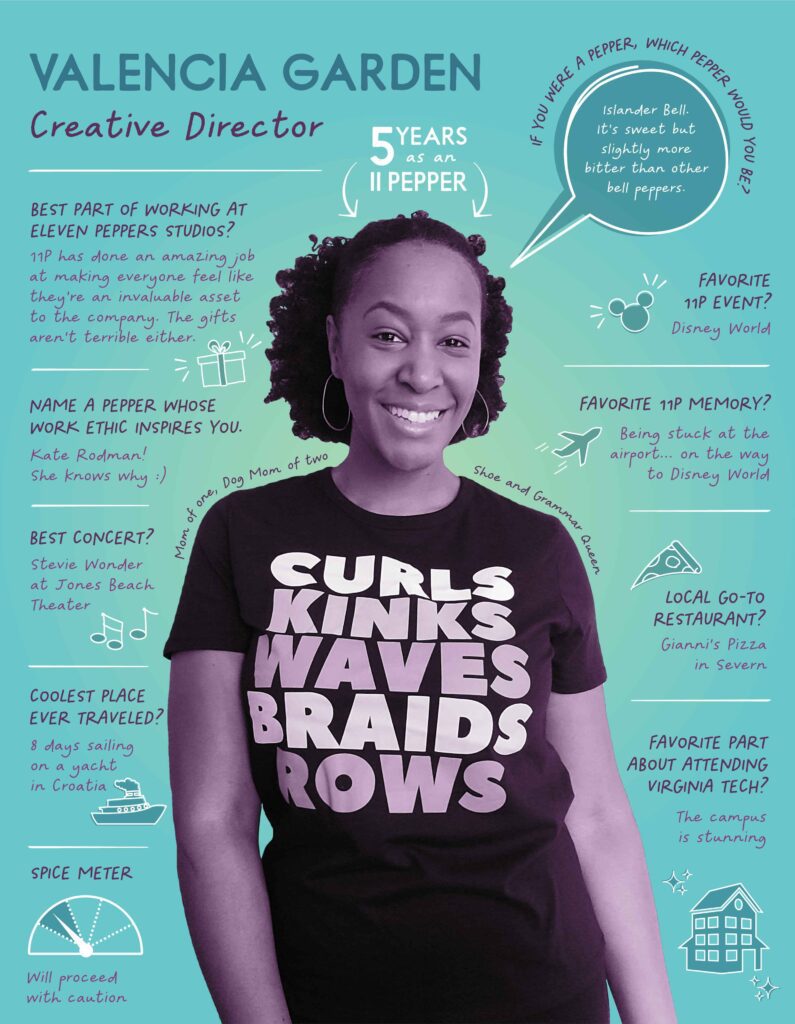 1. Best part of working at Eleven Peppers Studios?
It's hard to feel like you're actually a part of a family when it comes to your employer, but 11P has done an amazing job at making everyone feel like they're an invaluable asset to the company. The gifts aren't terrible, either.
2. If you were a pepper, what type would you be and why?
Islander Bell Pepper. It's sweet but slightly more bitter than other bell peppers. Also, purple is my favorite color, so it just feels right.
3. What is your favorite 11p event?
Disney World.
4. What is your favorite present ever received from 11p?
Disney World—though my first Mother's Day gift was a great surprise too! I use my "Momosa" glass religiously.
5. What is your favorite 11p memory?
Being stuck at the airport…on the way to Disney World.
6. Name a Pepper you can always lean on for support or advice:
Theresa has been super helpful in my Creative Director role, and Lisa has an opinion about everything, which is great for a second guesser like me!
7. Name a Pepper whose work ethic inspires you:
Kate Rodman! She knows why. ????
8. My spice meter :
Complete wimp
Will proceed with caution
A subtle flame
A little sweat never hurt
The spicier, the better!
Getting to know Valencia a little better...
1. What's the best concert you have ever been to?
In my early 20s, I left work early to drive to NY to see Stevie Wonder perform at Jones Beach Theater. A super heavy rainstorm came through about 15 minutes before showtime—I got soaked! I paid $50 from a vendor for a blanket…it was springtime, so chilly air and wet clothes didn't mix. Most people left after the rain, so I spent the concert 3 rows away from Stevie and his keyboard. Drove all the way back home when it was over, only to wake up a few hours later to go back to work! #brokelife Unforgettable night. Jon Batiste at Howard Theatre is a close second – second lining is undefeated.
2. How many pairs of shoes do you own? Which pair is your favorite?
Probably 30-35 pairs. And I only wear maybe 6 in my normal rotation at a time.
3. Where is the coolest place you've ever traveled?
I spent 8 days sailing on a yacht in Croatia. Best trip ever.
4. What is your favorite local restaurant?
Gianni's pizza in Severn. It was right across from my middle and high school, and I may or may not have frequented there on some school days.
5. What is your daughter's favorite toy?
Any type of ball. She got a basketball hoop and a basketball for Christmas, and she spent the next 3 hours screaming, "A BALL!!!" from random parts of the house. Guess what she's getting for her birthday in a few weeks?
6. Who is your favorite musician?
This is hard! Musician for me = someone who can actually play an instrument, so I'll just rattle off a list: Prince, PJ Morton, EWF, Needtobreathe, Rufus & Chaka Khan, Jon Batiste.
7. What is your biggest pet peeve?
People who still don't know the differences between they're/there/their, where/wear/were, and lost/loss. It makes me sad.
8. What was your favorite thing about attending Virginia Tech?
The campus is stunning. It was a surprisingly serene experience being in college in the middle of the mountains. I've yet to see another campus that wowed me like Blacksburg did.
9. Tell us the best or funniest thing about your dogs – Hall and Oates!
We thought Hall was a sweetheart when we first got him, but he's really a jerk. He sits on Oates, eats his food (and yours if you're not looking), and steals your blankets for himself. He's our personal Dennis the Menace. Oates is forging a really sweet relationship with my 2 year-old daughter. It's great to see how much he's grown from being afraid of her to just wanting to lick her face all day!