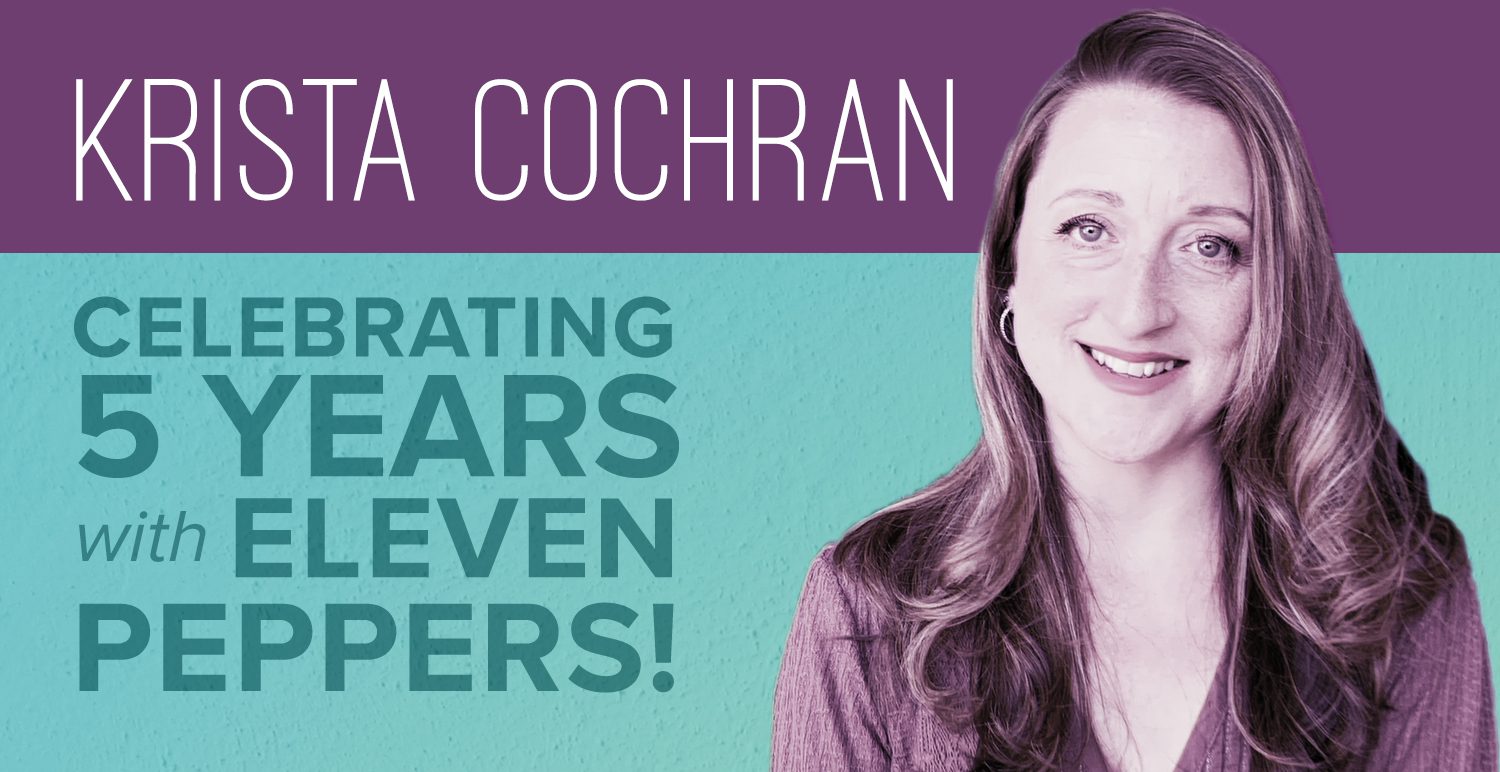 Celebrating 5 Years with Krista
We're ready to celebrate, it's Krista Cochran's 5th Pepperversary!
Krista is an extremely talented Senior UX Designer. Since becoming a Pepper, she has been unrivaled in her ability to capture client's requests and is committed to producing a superior product. She's one of the sweetest people you'll ever meet, and her positivity radiates in the office!
Krista is absolutely family first. Her two girls keep her and her husband extremely busy running around with lacrosse, soccer, dance etc.
To learn more about Krista, keep scrolling to read our special interview and infographic!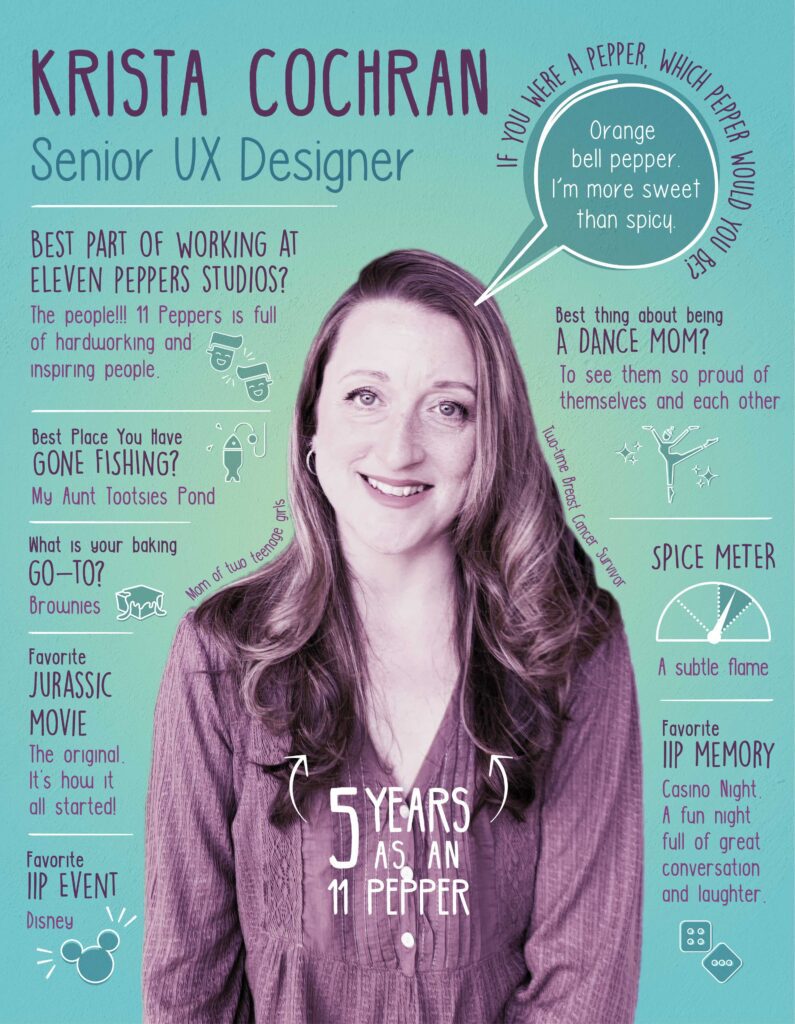 1. Best part of working at Eleven Peppers Studios
The people!!! 11 Peppers is full of hardworking, inspiring and entertaining people.
2. If you were a pepper, what type would you be and why?
Orange bell pepper. I'm more of a sweet than spicy person AND orange is my favorite color.
3. What is a favorite 11p event?
Disney!
4. What is your favorite Christmas present ever received from 11p?
A Louis Vuitton purse!
5. What is your favorite 11p memory?
Casino night. It was such a fun night full of great conversation and laughter
6. Name a Pepper you can always lean on for support or advice:
Ryan Kelly. He has always been there to listen and give honest advice.
7. Name a Pepper whose work or work ethic inspires you:
Our main boss lady Kristen Parks! Even though I admire her hard work and dedication to 11 Peppers at the heart of everything, I love that she is a true designer.
8: My spice meter :
Complete wimp
Will proceed with caution
A subtle flame
A little sweat never hurt
The spicier, the better!
Getting to know Krista a little better...
1. Where is the best place you have ever gone fishing?
My Aunt Tooties pond.
2. What is the best thing about being a "dance mom"?
When my daughter and her team come off stage and know they pulled off a great performance. To see them so proud of themselves and of each other is a great thing to watch.
3. What is it like raising two teenagers?
It depends on the day, but most days, it's busy and entertaining. It's actually fun when your kids get older and catch on to your jokes.
4. What do you love about living in Southern MD?
The slower pace of life and beauty of the farms and the water.
5. Which Jurassic Park movie is your favorite?
The original. It's how it all started!
6. What is your go-to when you are baking a dessert?
Brownies.
7. What's the most exciting place you've traveled for the girl's activities?
Loved seeing the west coach beaches and LA.
8. What custom project do you love the most in your new house?
Our deck. Ron and Eliza did most of the work but it is definitely rewarding to enjoy something that our family built together.
9. Name your ultimate margarita (flavor and tequila).
Anything with Patron or 1800 Silver.
10. What has being a breast cancer survivor taught you?
To be thankful, even for the small things.