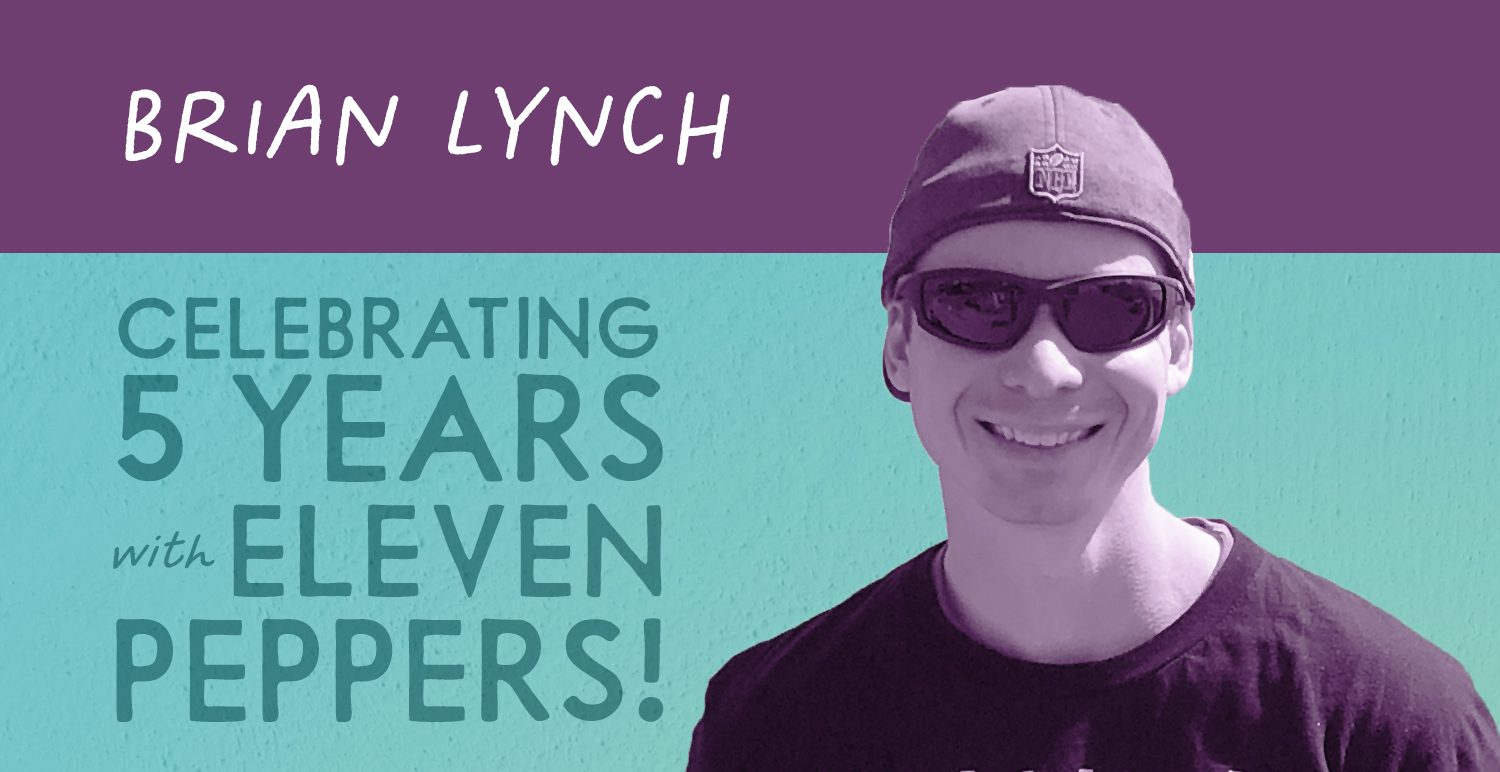 Celebrating 5 Years: Brian Lynch
It feels like just yesterday that Brian Lynch became a Pepper – and here we are, five years later, congratulating him on everything he has accomplished!
Brian is a very self-motivated, highly talented developer. He really understands and respects the role of UX, and works closely with us UX designers to learn more about the 'why' of what we do. Wherever he goes, he fits in immediately and is always highly respected for his work ethic, his vast skill set, and his ability to solve nearly any problem.
To learn more about Brian, keep scrolling to read our special interview and infographic!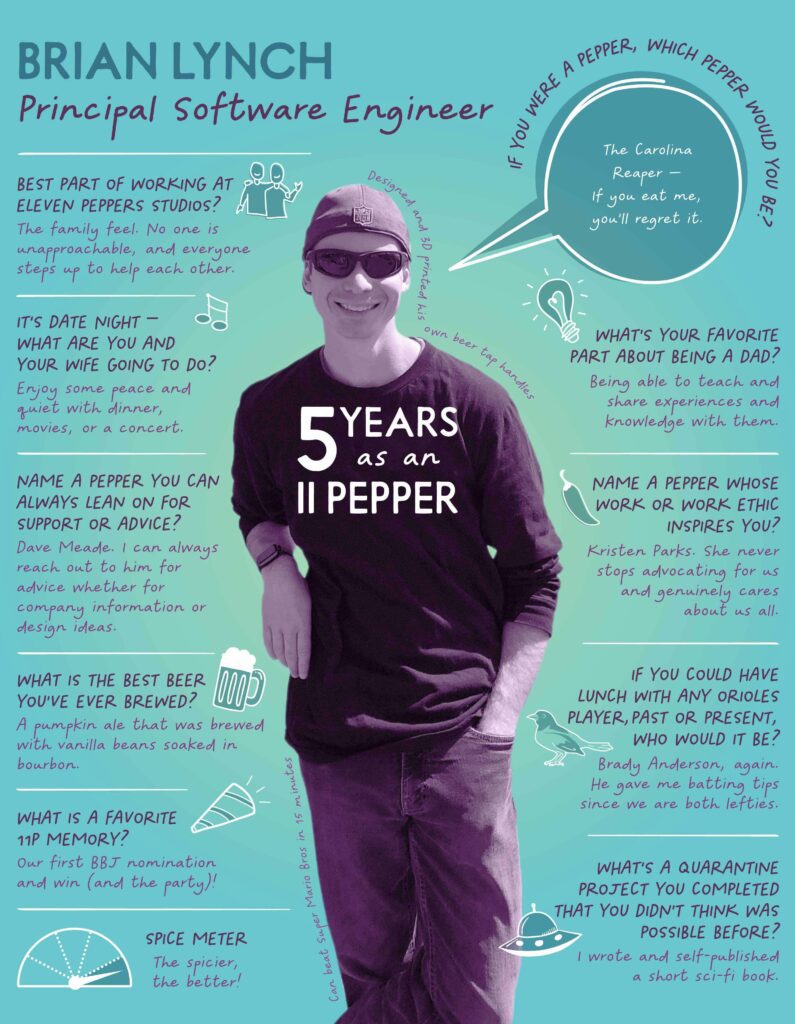 1. Best part of working at Eleven Peppers Studios?
The family feels. Everyone at 11p is amazing. No one is unapproachable, and everyone steps up to help each other.
2. If you were a pepper, what type would you be and why?
Carolina Reaper. If you eat me, you'll regret it.
3. What is your favorite 11p event?
All the holiday parties.
4. What is your favorite present ever received from 11p?
A trip to Disney with the entire company.
5. What is your favorite 11p memory?
Our first BBJ nomination and win (and the party!).
6. Name a Pepper you can always lean on for support or advice:
Dave Meade. I've worked on and off with Dave for years, and even when we're not on the same project, I will reach out to him for advice, whether it be related to company information or design ideas.
7. Name a Pepper whose work ethic inspires you:
Kristen Parks. She never stops advocating for us and genuinely cares about us all. She is always available, even when she should be taking well-deserved breaks.
8. My spice meter :
Complete wimp
Will proceed with caution
A subtle flame
A little sweat never hurt
The spicier, the better!
Getting to know Brian a little better...
1. What is the best beer you've ever brewed.
A pumpkin ale that was brewed with vanilla beans soaked in bourbon. It was like drinking a pumpkin pie.
2. What was the first song you ever learned to play on the guitar?
I wanted it to be "Smells Like Teen Spirit" — Nirvana is why I wanted to learn to play guitar — but it was probably "Today" by Smashing Pumpkins or "Nothing Else Matters" by Metallica.
3. It's date night – what are you and your wife going to do?
Enjoy some peace and quiet with dinner, movies, or a concert (yes, peace and quiet).
4. Favorite brewery to visit? Why?
Troegs. It has a large open area inside and out, the grilled cheese (and beer) are great, and it's proximity to Hershey. (Or Jailbreak, or Tree House, or, hmm.)
5. What has been your favorite thing that you've 3D printed?
I designed and printed tap handles in the shape of warp pipes from Super Mario Bros. Each one has a spot to label the beer on tap, and some have different Mario figures on top.
6. If you had to pick one Nintendo game to play the rest of your life, what would it be?
Super Mario Bros 3. I would have picked the original, but I can beat it in about 15 minutes. SMB3 takes a little longer. (Or can I pick Super Mario All-Stars that have SMB 1-3? Does that count?)
7. If you could have lunch with any Orioles player, past or present, who would it be?
Brady Anderson. I met him once when I was about 5. He gave me batting tips since we are both lefties.
8. What is a quarantine project you completed that you didn't think was possible before?
I wrote and self-published a short sci-fi book. It took much longer to complete than I expected, learning how to format not only the cover but also the contents. I was pleased with the final product of having a physical copy of the book in my hands.
9. What's your favorite part about being a dad?
Being able to teach and share experiences and knowledge with them. And watching how quickly they learn.