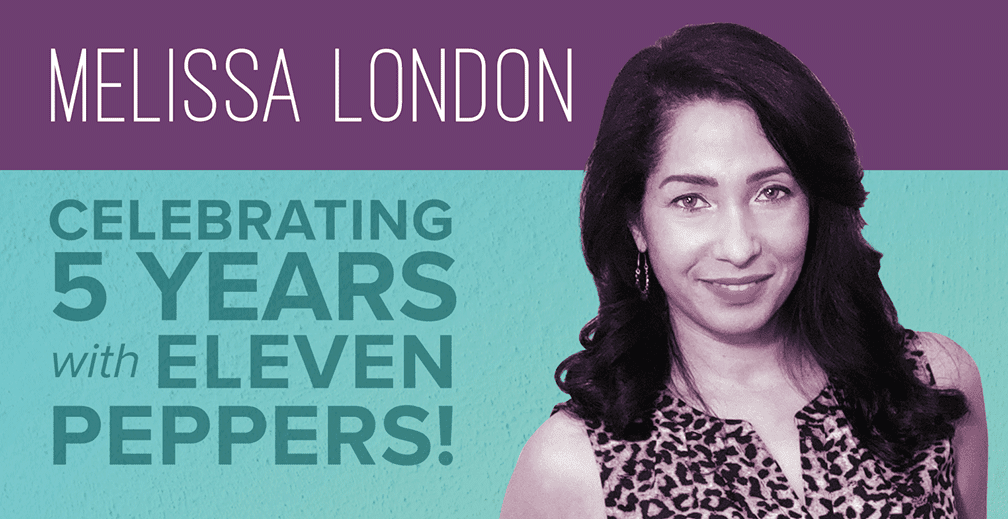 Celebrating 5 Years: Melissa London
It's time to throw some confetti and pop champagne, it's Melissa London's 5th Pepperversary!
Melissa London was recently promoted to Creative Director of our Commercial Team. Her ability to provide strategic art direction, encourage team collaboration, and promote project growth has created a stronger presence for commercial design at Eleven Peppers.
When Melissa's not working, she loves spending time with her family and friends. She is always ready for a good meal and a great glass of wine.
Our team would not be the same without Melissa. Her presence makes everyone feel excited about the work we are doing, and we're honored to have her as an integral part of the Pepper family!
To learn more about Melissa, keep scrolling to read our special interview and infographic!
1. Best part of working at Eleven Peppers Studios?
The culture…it's down-to-earth, family-friendly vibe.
2. If you were a pepper, what type would you be and why?
A Serrano Pepper. It offers a wide range of heat!
3. What is a favorite 11P event?
The 2019 Holiday party that just happened. EPS does it bigger and better every year!
4. What is your favorite Christmas present ever received from 11P?
A wad of cash!
5. What is your favorite 11P memory?
There are so many. The Disney Animal Kingdom Safari was pretty sweet!
6. Name a Pepper you can always lean on for support or advice:
I appreciate all the side hustle that goes on. Peppers who seek more challenges, more education and are always hungry to grow. I'm lucky to be around several of those individuals… Kate R., Ashley P., and R. Rice (to name a few).
7. Name a Pepper whose work or work ethic inspires you:
Kristen always has a very diplomatic and insightful view on how to respond to tough situations. She's a great resource!
8: My spice meter :
Complete wimp
Will proceed with caution
A subtle flame
A little sweat never hurt
The spicier, the better!
Getting to know Melissa a little better...
1. What is your favorite part about being a mom?
Watching her little mind develop. Small things like remembering family vacations, memorizing animals and mimicking her parents behavior (that last part is kinda scary).
2. If you could only eat one meal for the rest of your life, what would it be?
A perfectly cooked poached egg with hollandaise on top of avocado toast with bottomless mimosas (hold the OJ).
3. If you could live anywhere, where would it be?
I've never been there but I'm in a romantic relationship with Paris in my head and my heart. I think they call me a Francophile. OR an imaginary city that looks like the LA landscape but is populated with NYC people (2 cities I have lived in).
4. What makes you laugh the most?
My family is pretty entertaining. Also chic humor… Amy Schumer, Katherine Ryan, Ali Wong, etc.
5. What would you sing at karaoke night?
I typically leave the singing to my husband (who's in a cover band) but if someone twists my arm… I think 80's power ballads are fun to sing. The last 2 times I sang karaoke I bombed tho – Love is a Battlefield (Pat Benatar) and It's Tricky Run DMC.
6. Aside from necessities, what one thing could you not go a day without?
My dog Stanley, he's my security blanket and coffee. #basic
7. Is there anything you wished would come back into fashion?
Everything has because it goes in cycles but I'd love to see more 70's styles with better fabrics (no polyester) and can we bring back disco music? Mind you, I am a kid of the 80's.
8. Any designer pet peeves?
Icon inconsistency, unnecessarily force justifying, thin type on light backgrounds, too much leading, too little leading, not dragging backgrounds to the edge.
9. What's your favorite family holiday tradition?
Christmas crafting and cookie baking/decorating with the kids.
10. Any secret hobbies or talents?
I can sew stuff…pillows, drapes, pumpkin costumes!