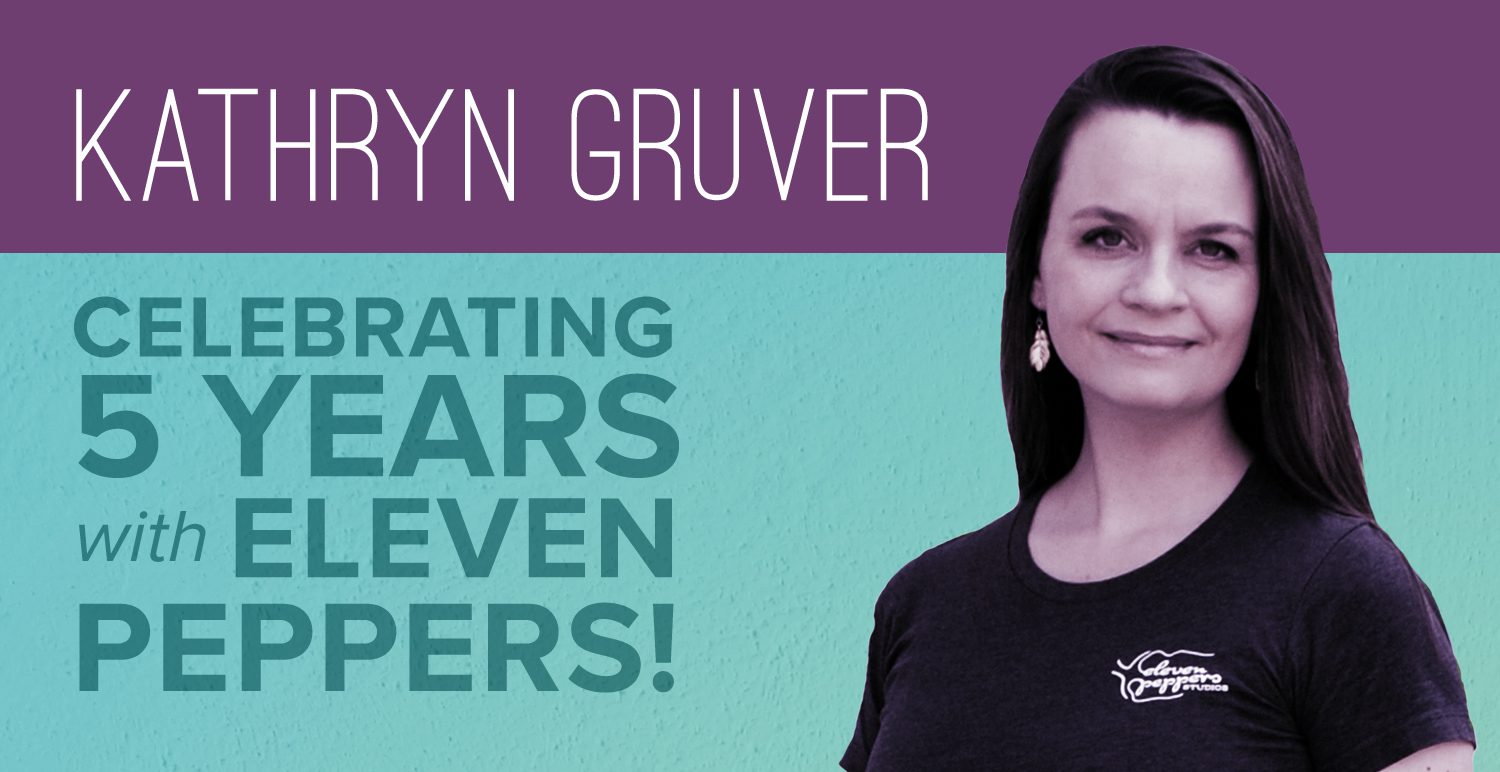 Celebrating 5 Years with Kathryn Gruver
Help us congratulate Kathryn Gruver on a half decade spent as a pepper!
Over the past five years, Kathryn has displayed the ultimate level of dedication and design prowess as a leading contributor to a variety of UX and design projects.
When Kathryn is not working, you'll probably find her outside enjoying time with her husband, sons and dog!
To learn more about Kathryn, keep scrolling to read our special interview and infographic!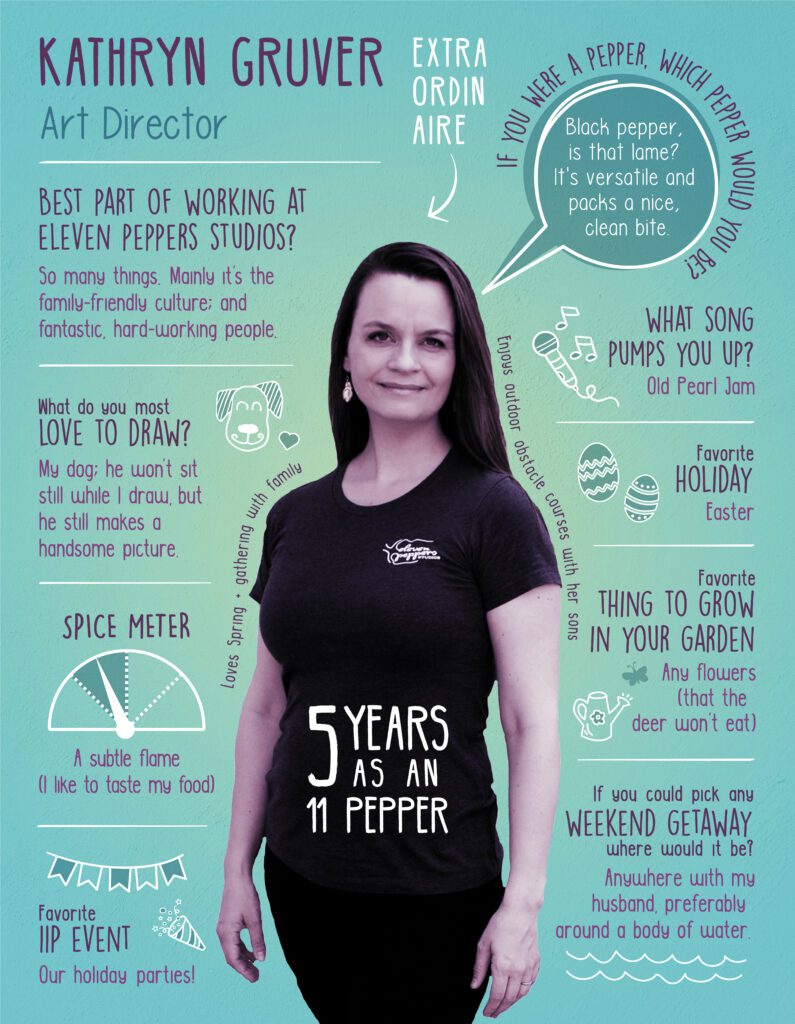 1. Best part of working at Eleven Peppers Studios?
So many things. Mainly it's the family friendly culture; and fantastic, hard-working people. I also feel like the leadership is humble, honest, and appreciative.
2. If you were a pepper, what type would you be and why?
Black pepper, is that lame? It's versatile and packs a nice, clean bite.
3. What is a favorite 11p event?
I like our holiday parties. My husband and I get a nice evening away, and we get to see everyone.
4. What is your favorite Christmas present ever received from 11p?
We usually get a trip or gift certificate for one – as parents, they have been wonderful!
5. What is your favorite 11p memory?
Our trip to Disney of course!
6. Name a Pepper whose work or work ethic inspires you:
Customers that I encounter are always impressed by our company's work ethic. It's hard to pin point one person who works exceptionally hard, because I feel like that's part of our "way." I guess Kate Coates always goes above and beyond what is expected of her, and knocks it out of the park every time.
7. My spice meter :
Complete wimp
Will proceed with caution
A subtle flame
A little sweat never hurt
The spicier, the better!
Getting to know Kathryn a little better...
1. What's your favorite book of all time?
The Bible, other than that I don't have one.

2. What's your favorite activity to do with your sons?
Anything outdoors. Recently, we've been doing scavenger hunts on our walks around the neighborhood, and some pretty wild obstacle courses in the yard.
3. What do you love to draw most?
My dog; he won't sit still while I draw, but he still makes a handsome picture.
4. What is your favorite thing to grow in your garden?
Any flower [that the deer won't eat].
5. What is your favorite thing to cook using what you grew in your garden?
I can't grow them well, but my mother grows amazing summer tomatoes.
6. If you could pick any weekend getaway, where would it be?
Anywhere with my husband, preferably around some body of water.
7. We hear your dog is pretty special, any special tricks or stories to share?
He isn't obedient, but he is special. One time I planted some dill, and when I returned from putting my tools away, he unplanted it.
8. What's your anthem – the song that you can always listen to pump you up?
I listen to old Pearl Jam when I need to get in gear.
9. If you won the lottery, what would you do first?
Pay off the mortgage.
10. What's your favorite holiday?
Easter. It's the reason Christmas is special; but I also love spring, and gathering with family.