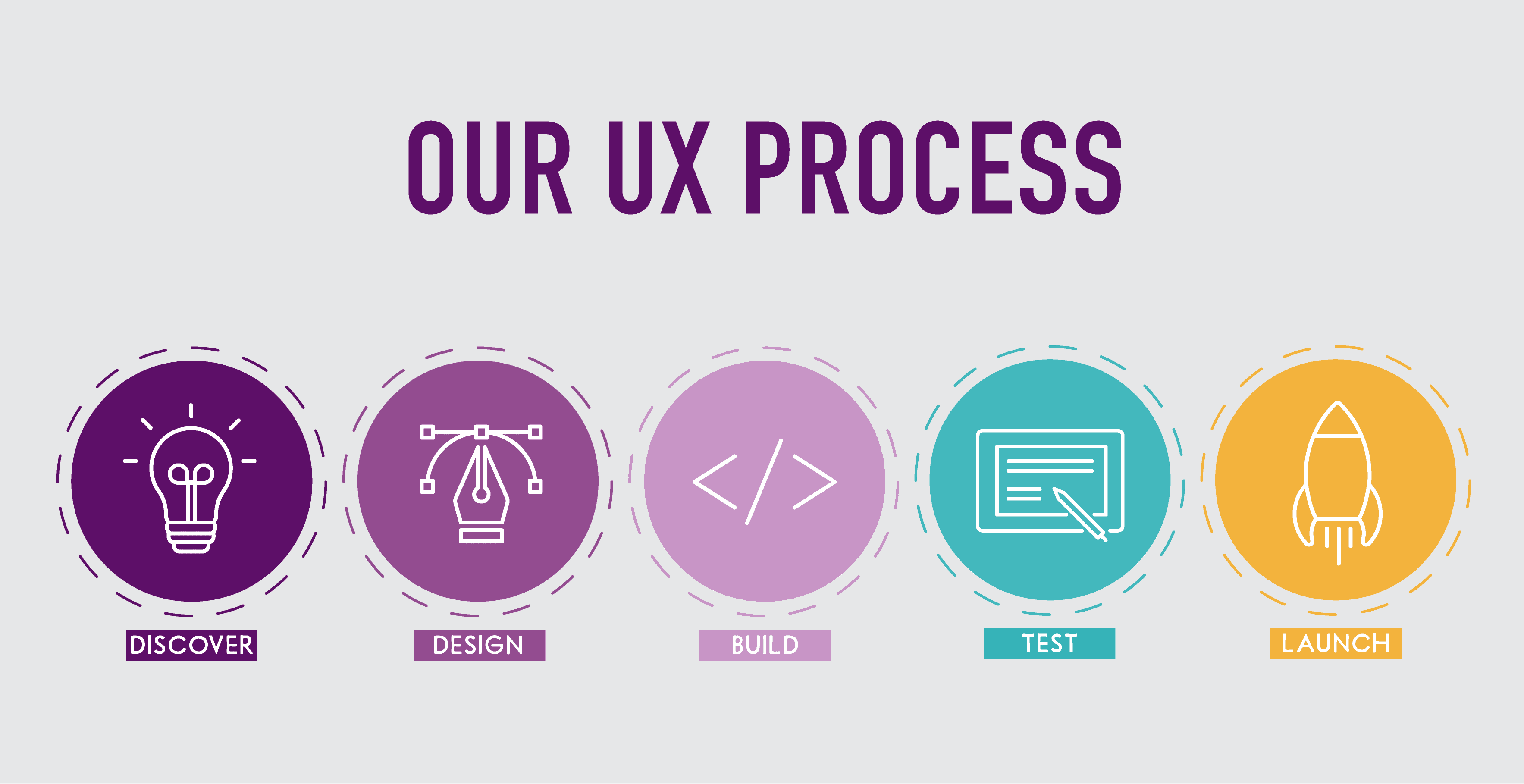 Our UX Process
There are no shortages of companies today that implement user-experience design for their products. At 11p, we found ourselves wondering – what should the process be?. Is it important to adopt a specific process, or can it be more fluid? We were determined to take a deep dive into what works best for us and create a process that aligns with our company values and covers all the bases.
It was important for us to keep three things in mind as we embarked on this journey:
(1) How can we break our projects down into measurable phases?
(2) How much effort will each phase consist of, and
(3) How will following this process be beneficial for us?
We took a close look at our past projects, industry standards, and came up with five distinct phases: Discover, Design, Build, Test and Launch. Each phase is dependent upon the other. When it's time to Launch, the process leads the UX team back into a Testing phase. The results allow us to revisit the Build, Design, and Discover phases. The entire process, as well as the individual phases, are iterative. This is represented by the dashed lines surrounding each phase of the UX process in the graphic below.

Based on our research of successful UX projects, we established baseline life cycle averages for each phase. Discovery is the foundation of the process and holds an estimated 30% of the weight, while Design holds 20%, Build 20%, Test 25% and Launch at 5%. This lifecycle is a depiction of the approximate weight of each phase within the process and how much they are dependent upon each other. While it is possible to pick and choose phases (which can happen due to project time or budget constraints) if one or more phases are not being observed, the success rate of a project will decrease.
Overall, we found that to create an outstanding user experience, it helps to do the work upfront and develop a process that works best for your team. Our 5-phased approach works best for us and more importantly, has proven to decrease risk and increase usability, adoption, traffic, retention, satisfaction, and stability across project deliverables.
WRITTEN BY
Ashley Donatello & Gary Palmer
Ashley Donatello is a Senior UX Designer and has been with Eleven Peppers Studios for over six years. Ashley has a profound interest in solving user problems with a focus on the development and design of products themselves.
Gary Palmer is a Senior Usability Engineer and has been with Eleven Peppers Studios for two years. The source content of this blog is derived from an extended user-experience process created by Gary and a brown bag presentation he held for internal team members.