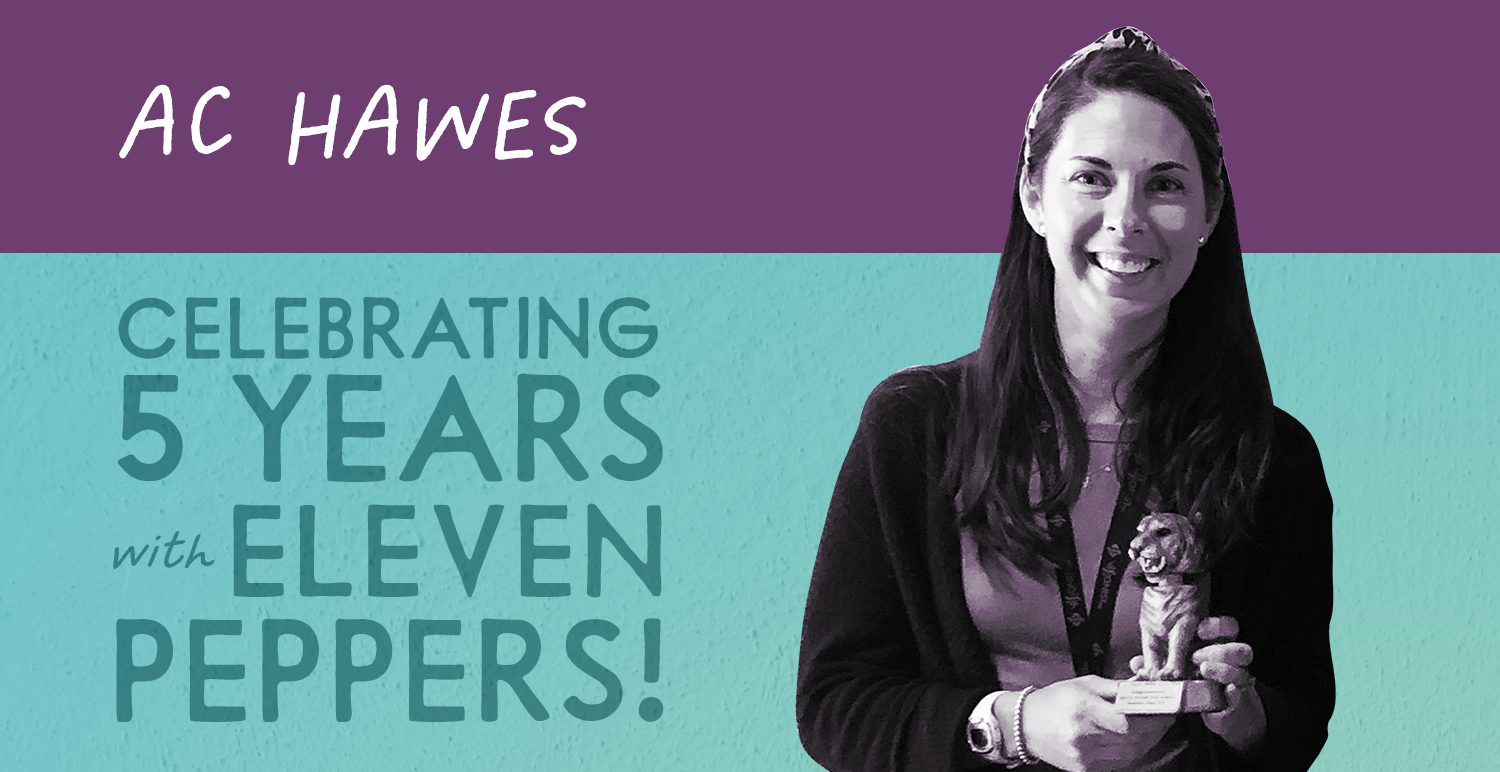 Celebrating 5 Years: AC Hawes
Life at 11p wouldn't be the same without AC Hawes! She's a killer problem-solver and phenomenal at dissecting a workflow. She understands how difficult it can be to juggle work and family, so as 11p's official Working Parent Advocate, she has made it her mission to help Peppers make life a little easier to balance.
According to AC's fellow Peppers, she always keeps it real, with the best shoe wardrobe in the office!
To learn more about AC, keep scrolling to read our special interview and infographic!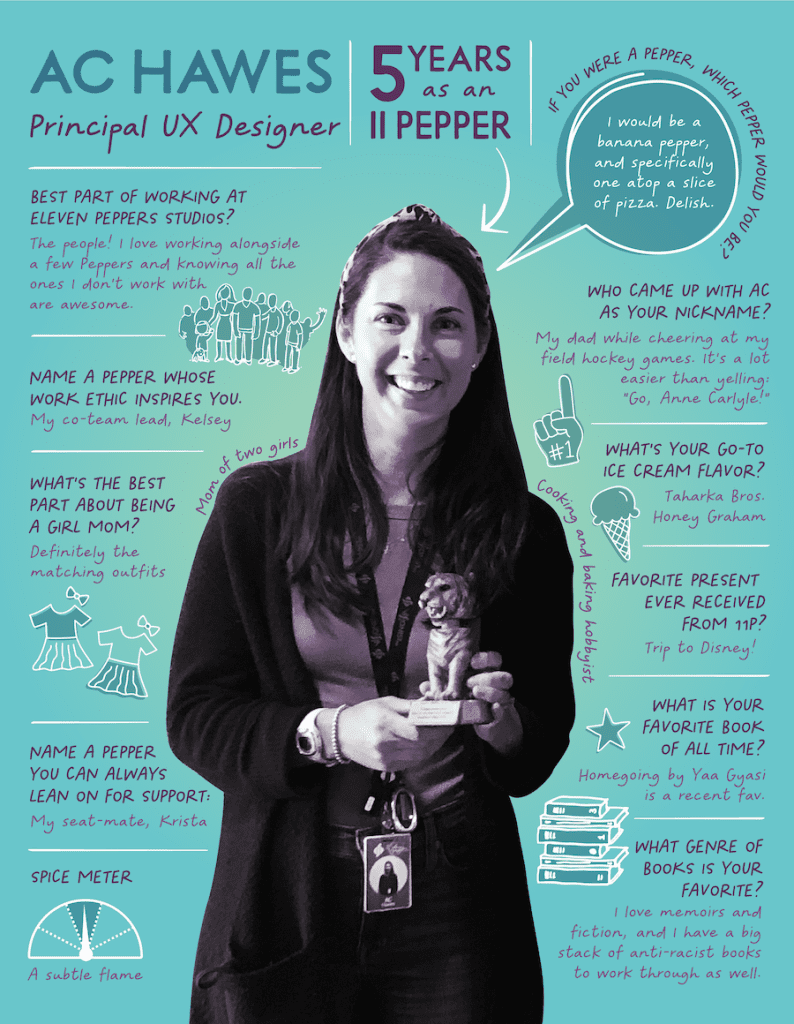 1. Best part of working at Eleven Peppers Studios?
The people! I love working alongside a few Peppers and knowing all the ones I don't work with are awesome.
2. If you were a pepper, what type would you be and why?
I would be a banana pepper, and specifically one atop a slice of pizza. Delish.
3. What is your favorite 11p event?
I have never been able to attend a holiday party, but I hear they're amazing, so I am looking forward to it, someday, somehow.
4. What is your favorite present ever received from 11p?
A trip to Disney!
5. Name a Pepper you can always lean on for support or advice:
My seat-mate, Krista
7. Name a Pepper whose work ethic inspires you:
My co-team lead Kelsey
8. My spice meter :
Complete wimp
Will proceed with caution
A subtle flame
A little sweat never hurt
The spicier, the better!
Getting to know AC a little better...
1.  Who came up with AC as your nickname?
My dad while cheering at my field hockey games. It's a lot easier than yelling 'Go Anne Carlyle!'
2. What's the best part of being a girl mom?
Definitely the matching outfits!
3. What's your go-to ice cream flavor?
Taharka Bros. Honey Graham
4. What is the best vacation you've ever taken?
As a parent of two small children during Covid, any trip without them recently has been heaven!
5. Where are you looking forward to traveling next?
Hopefully a trip to Maine this summer with the family.
6. What is the most rewarding part about being 11p's Working Parent Advocate?
Being a working parent is the hardest thing I have ever done, so anything I can advocate for at Eleven Peppers to make it easier for others (and ultimately my daughters) makes it rewarding.
7. What is your favorite book of all time?
This is too hard of a question. Homegoing by Yaa Gyasi is a recent favorite.
8. What genre of books is your favorite?
I love memoirs and fiction, and I have a big stack of anti-racist books to work through as well.
9. If you have free time, which hobby would you spend time doing?
Cooking and baking!