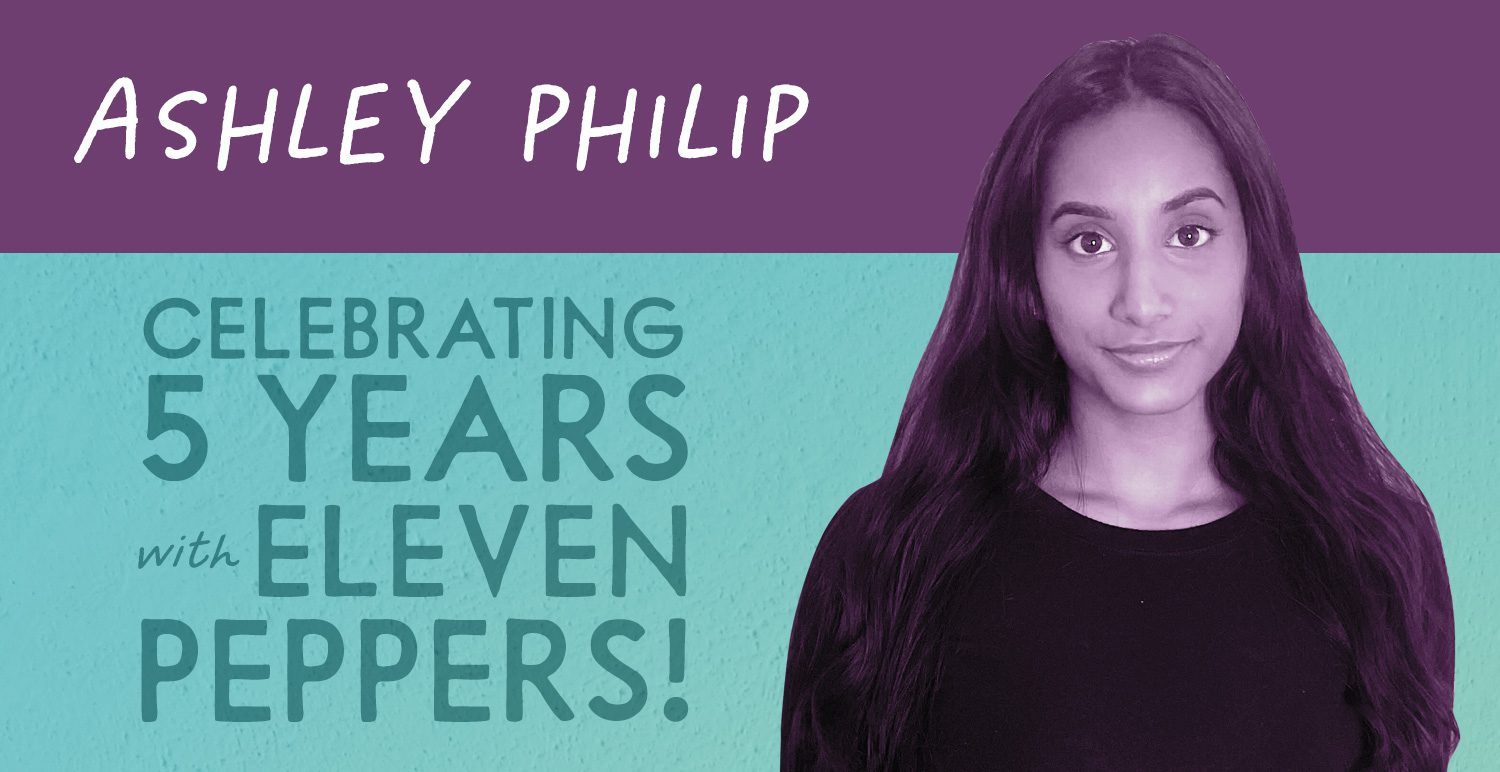 Celebrating 5 Years: Ashley Philip
We couldn't be more excited to celebrate Ashley Philip's 5 year Pepperversary!
From the very beginning, Ashley conveyed a keen understanding for design principles and creativity, but has since expanded her skill set on the 11p Commercial Team. She is an agile designer who can jump on any project whether it be social, branding, marketing, web or UX.
On the 11p Commercial Team, she's gotten the opportunity to work on many award-winning projects. Her drive to expand her skill set does not stop at 11p. She recently received her Masters Degree in UX from the Maryland Institute College of Art. Her work ethic and ambition is an inspiration to all! Congratulations Ashley!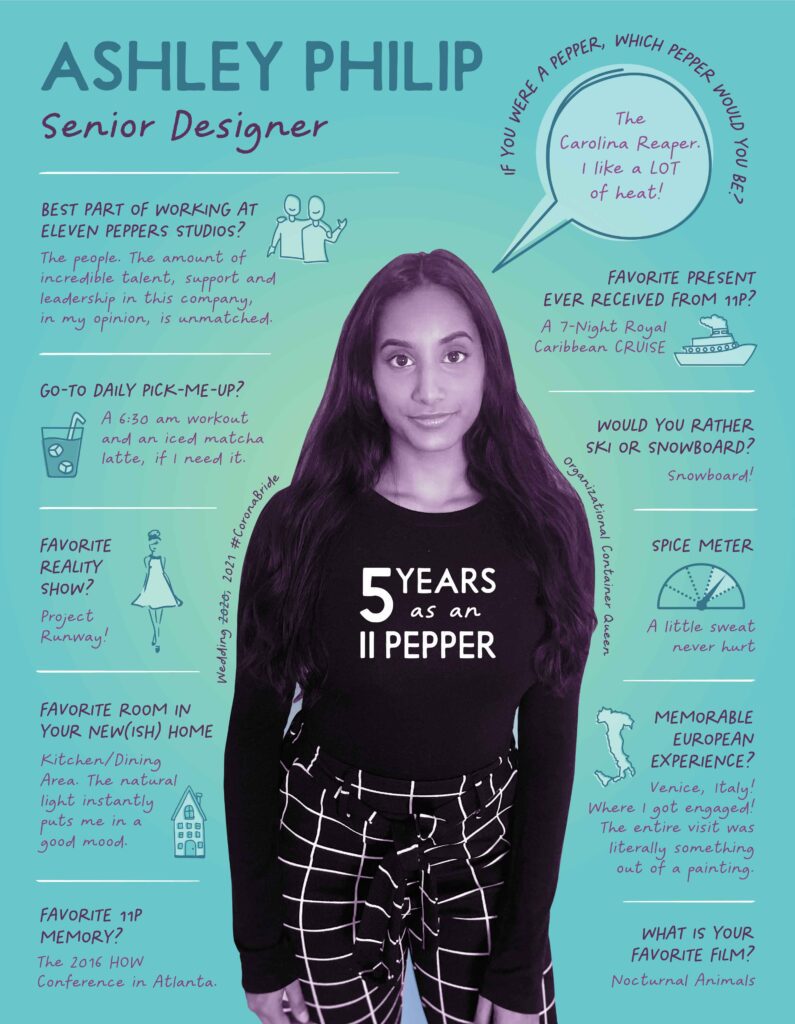 1. Best part of working at Eleven Peppers Studios?
The people. The amount of incredible talent, support and leadership in this company, in my opinion, is unmatched.
2. If you were a pepper, what type would you be and why?
The Carolina Reaper– I like a LOT of heat! ????
3. What is your favorite 11p event?
DISNEY WORLD!
4. What is your favorite present ever received from 11p?
A 7-Night Royal Caribbean CRUISE to the Bahamas, Honduras and Mexico!
5. What is your favorite 11p memory?
The 2016 HOW Conference in Atlanta. It was my first year as a Pepper and I got to (really) know quite a few Peppers early on and soak up all the knowledge from some of the industry's best.
6. Name a Pepper you can always lean on for support or advice:
Melissa London– she's very knowledgeable in her career and knows exactly how to be assertive and fight for a design/vision when need be. She knows what it takes to be a leader and has no problem listening to your aspirations and helps you create a plan to heighten them.
7. Name a Pepper whose work ethic inspires you:
Kate Rodman– the way she is able to take a client's thought and provide three or four solid design directions in such a limited amount of time where the thought has now turned into a holistic vision of a brand, inspires me. She's truly a force to be reckoned with.
8. My spice meter :
Complete wimp
Will proceed with caution
A subtle flame
A little sweat never hurt
The spicier, the better!
Getting to know Ashley a little better...
1. Since coffee isn't your thing, what is your go-to for a pick-me-up?
Currently, a 6:30 am workout ????. Throughout the day if I need it, I'll drink an iced matcha latte.
2. Favorite reality show?
Project Runway!
3. What are you most looking forward to on your wedding day?
To have a wedding day. #CoronaBride
4. What is your favorite room in your new(ish) home?
The Kitchen/Dining Area. The amount of natural light instantly puts me in a good mood. It's also the central spot for hosting guests.
5. What is your most memorable European experience?
Venice, Italy! Where I got engaged! The entire visit was literally something out of a painting.
6. Would you rather ski or snowboard?
Snowboard!
7. What is your favorite family tradition?
I don't have any at the moment– but I think I want make snowboarding every winter a tradition.
8. Do you have any secret hobbies or talents?
My organizational skills are pretty badass. I can find a perfectly labeled container, folder, basket etc.. for any piece of item in my house. Boring, I know.
9. If you could travel anywhere in 2021, where would you go?
Honeymoon plans include Bali + Paris– if it's ever safe *fingers crossed*
10. What is your favorite film?
Nocturnal Animals