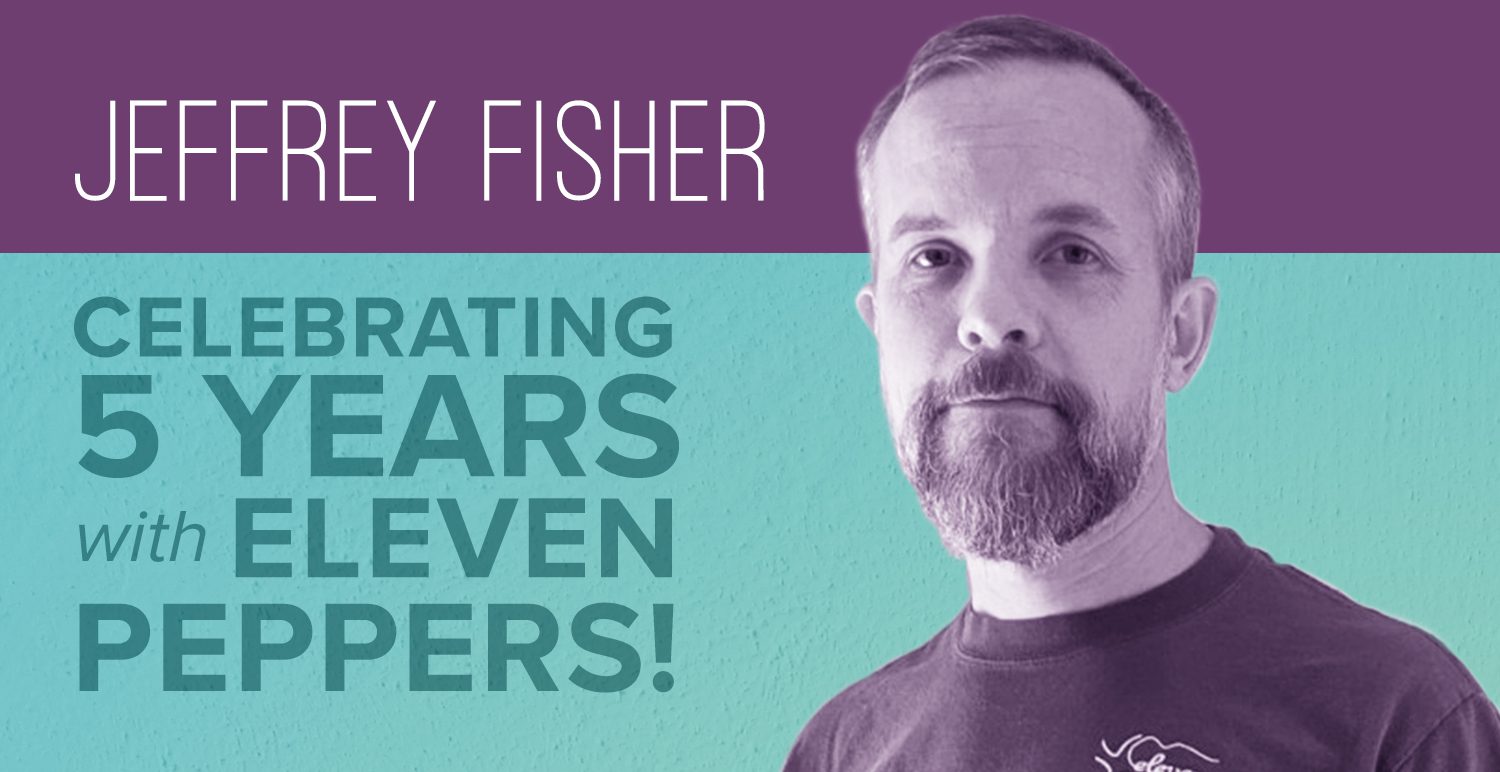 Celebrating 5 Years: Jeff Fisher
Help us celebrate Jeff Fisher on his 5th Pepperversary!
Jeff Fisher is a Senior UX Designer who spends his days applying his honed design skills tackling complex UI/UX problems and designing interfaces that are beautiful and intuitive. Needless to say, he's a talented guy!
Despite being a self proclaimed "solitary animal", Jeff loves being a part of the team, and considers himself lucky to work with such talented people.
When Jeff's not working, he loves spending time with his wife and children. Whether they are playing board games, going for a hike, or watching a good movie, it's always a good time!
We couldn't imagine a team without Jeff on it, so we're very grateful he's a part of the Pepper family!
To learn more about Jeff, keep scrolling to read our special interview and infographic!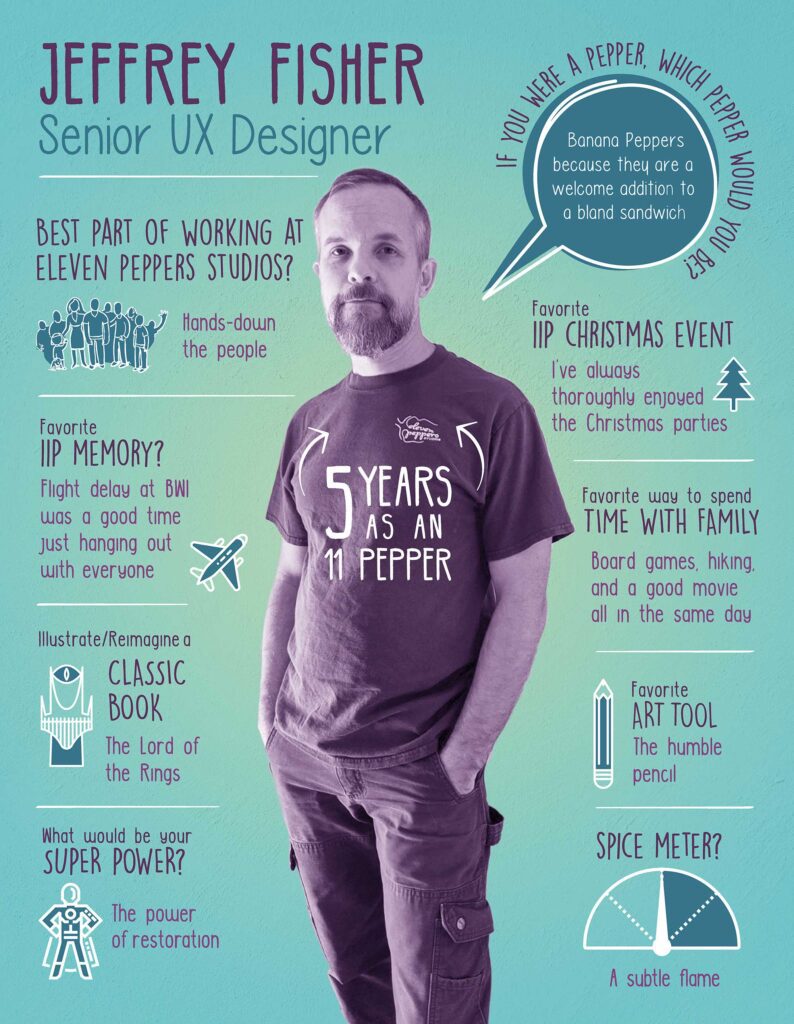 1. Best part of working at Eleven Peppers Studios?
I think the best part of working at EP is, hands-down, the people. Of course they are all very talented, but they truly are a great bunch. And I've appreciated that EP has always taken such care to hire quality people.
2. If you were a pepper, what type would you be and why?
Sadly, I am at a severe disadvantage in answering this question. My knowledge of peppers is pretty limited, but if I had to choose, I would say a banana pepper because they are such a welcomed addition to an otherwise bland sandwich.
3. What is a favorite 11P event?
The obvious choice is the trip to visit The Mouse, but from year to year I've always thoroughly enjoyed the Christmas parties. They have been held at great venues and it's always a good times catching up with folks. And it cannot be overlooked that I've come away with some fine whiskey.
4. What is your favorite Christmas present ever received from 11P?
The aforementioned whiskey – Irish whiskey – is always considered a win.
5. What is your favorite 11P memory?
As inconvenient as it was at the time, the flight delay at BWI was a good time just hanging out with everyone.
6. Name a Pepper you can always lean on for support or advice:
Oh…hmmm…being somewhat of a solitary animal and a homebody, I truthfully look to my wife, Jenn, who is a Pepper by extension, I think.
7. Name a Pepper whose work or work ethic inspires you:
Being that I went to school for illustration, I've always been thoroughly impressed with Kate Rodman's work.
8: My spice meter:
Complete wimp
Will proceed with caution
A subtle flame
A little sweat never hurt
The spicier, the better!
Getting to know Jeff a little better...
1. What is the one thing that most people don't know about you?
Yikes. I never know how to answer these kinds of questions. Where do I start? Ya know, when I was in Ireland back in 2002 I met this girl who asked me a similar question. As I attempted to answer she soon pointed out how I had told her all about my home and my friends, but nothing about myself. And here I've done it again.
2. What hobby do you spend the most time doing?
These days I have been attempting to juggle a few hobbies if not simply to stir my kids' creativity. Last year we started playing Dungeons & Dragons and I'm the dungeons master. And more recently we bought EVA foam to craft cosplay costumes.
3. If you had to eat one thing for the rest of your life, what would it be?
My wife's Toscana Soup never gets old.
4. If you could have any super power, what would it be and why?
I wish I had the power of Restoration — anything I touch would be restored to its original condition. And then I would open an antique store, not because I love or know anything about antiques, but because it would just seem right.
5. What's your favorite children's book to read to your little ones?
If only I had been asked this question a few years ago, I'm sure I could've named a few books. They are all reading on their own now and I've long forgotten what I used to read to them.
6. If you could illustrate and reimagine any classic book or comic, what would it be?
Well, with as many illustrators who have taken on The Lord of the Rings, I suppose it wouldn't hurt if I threw my hat in the ring.
7. Any favorite artists whose work you admire?
Justin Gerard jumps to mind. Of course there have been a lot more artists I've admired who are lost to the murky depths of my memory, but Justin Gerard is an amazing fantasy illustrator.
8. What's your favorite art tool?
The humble pencil.
9. What's your favorite way to spend the weekend with your family?
Playing board games, going for a hike, and watching a good movie, all in the same day.