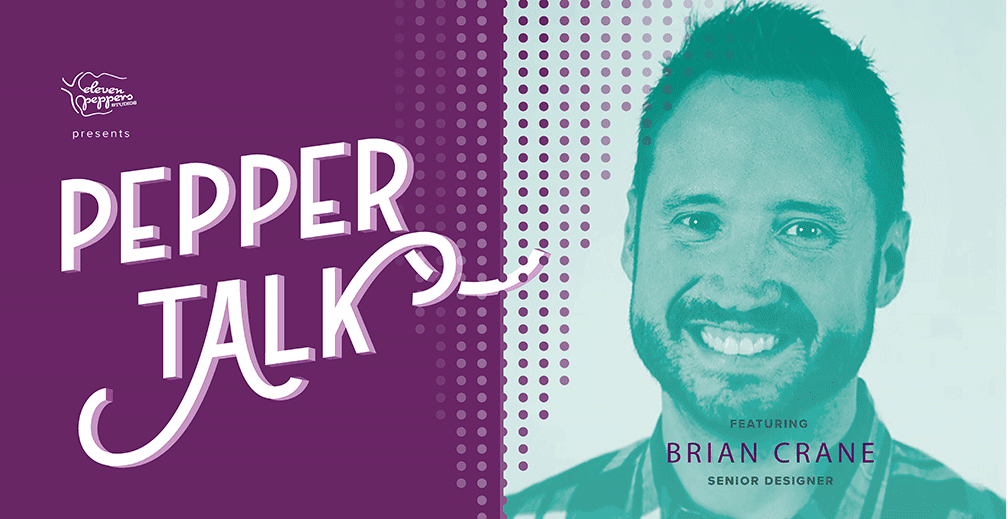 Pepper Talk with Brian Crane
Welcome back to Pepper Talk, this month we're learning more about Brian Crane! Just a little background before we get started, Brian currently works on designing government training resources and leading a creative team of multimedia designers. He's been with Eleven Peppers for 5 months!
1. What is the first thing you do when you wake up in the morning?
Cry. Just a nice, therapeutic, purge of metaphorical tears to get the blood flowing. Afterwards, I usually focus my energy on stubbing my toe, in the dark, while silently gallivanting to the shower, without waking up my wife…like some sort of sympathetic ninja.
2. If you could vacation anywhere in the world, where would you go?
Ireland, Germany and Italy are all on my wish list.
3. How would you describe your design style?
Adaptive. In our field, we deal with MANY different customers, all with THEIR own vision; therefore, one "design style" may work for a current task, but it more than likely won't carry over to the next. So, while I certainly inject my own personality and flair into all my projects, I focus on adapting my skill set to fit the particular job at hand.
4. What do you draw inspiration from?
It's probably cliché to say, but I draw inspiration from almost everything. Whether it be a transition in a movie, a billboard I see on my commute, a GIF on social media, a concert poster, a song someone is humming in the elevator, brainstorming with co-workers, an elaborate doily on Pinterest, a masterpiece my 8 year-old crafts in his art class, a screen print on a shirt that the guy in front of me at the Hollywood Video is wearing. You get the idea.
5. What are your favorite tools of the trade? What are the worst?
Favorites? Post-It notes, Sharpies and working on a computer that doesn't enter into a state of rigor mortis, from having more than one design program open at a time, are all intoxicating. I'm also a Wacom tablet mark.
Worst? PowerPoint…all of it. Also, the Papyrus typeface.
6. Do you have a set process when beginning a new project?
1) Customer/Client Interrogation…with a smile.
2) Copious amounts of research.
3) Doodles, sketches and word play.
4) Swan dive into Adobe's fluffy Creative Cloud for a little comp action.
7. What is your favorite holiday?
Christmas. It's not even close. The lights, smells, decorations, music, generosity… It's all amazing. Plus, people are happier, the food is better and the beer is stronger.
8. Rapid-Fire Round:
Caffeine or no: s that a trick question? Wait…do people really answer "no" here? They clearly can't be trusted, right?!
Sweet or savory: Tacos
Favorite movie: This is super tough because there are so many I love. Push comes to shove, though, I'd say my favorite movie of all times has to be A Christmas Story, with Beetlejuice nipping at its heels.
Favorite place to travel: Local? A tie for both North and, South Carolina…but I guess that's a vanilla answer. My passport is fairly barren so I don't have a ton of comparable experience. That being said, I've been to the Dominican Republic a handful of times and love it. Perfect place to unplug, stare at glowing cyan waters, sip a cold drink and let the day pass.
Hobbies: Campin', brewery visitin', movie viewin', music jammin', Xbox playin', American-muscle car admirin', Dorito eatin', Baltimore Ravens game yellin', Big O and Dukes listenin' and family-time spendin'.
9. Okay, admission time… If you could pick one design that you wish you had come up with first, what would it be?

The professional answer would be the architecture designs of Frank Gehry. His vision to get imaginative and not conform to standard expectations with his designs was awesome. "Oh, buildings are supposed to have four corners with properly placed window treatments? Hold my beer…"
The personal answer would be…the meme. Who would have thought that having a still image of a frowning cat, letterboxed by something typed out in Impact, would be the most powerful, and utilized, form of communication on the planet?!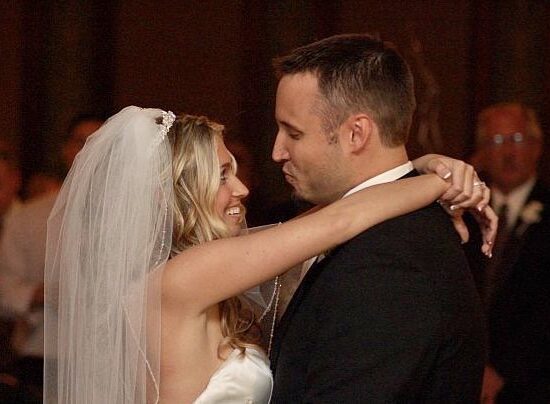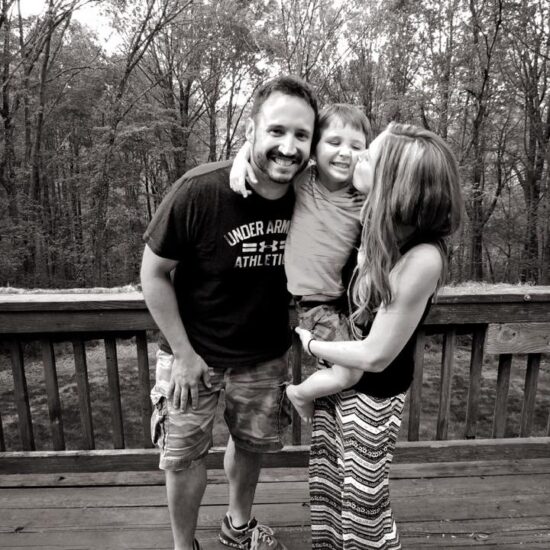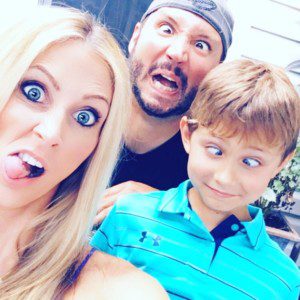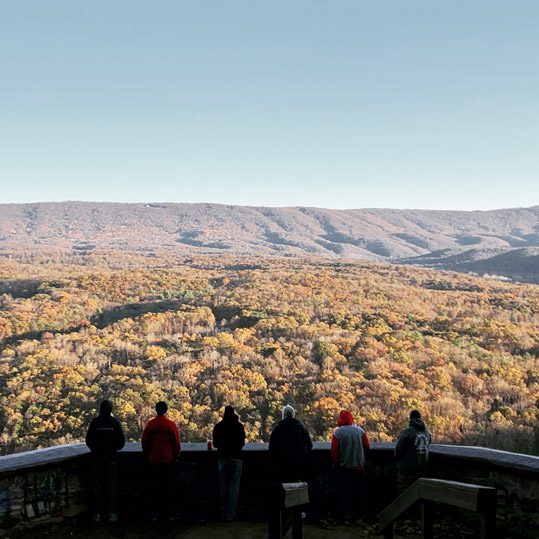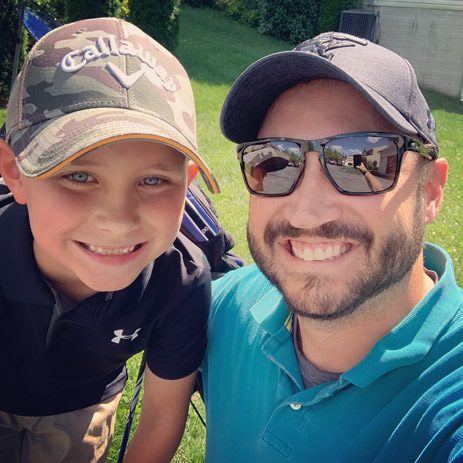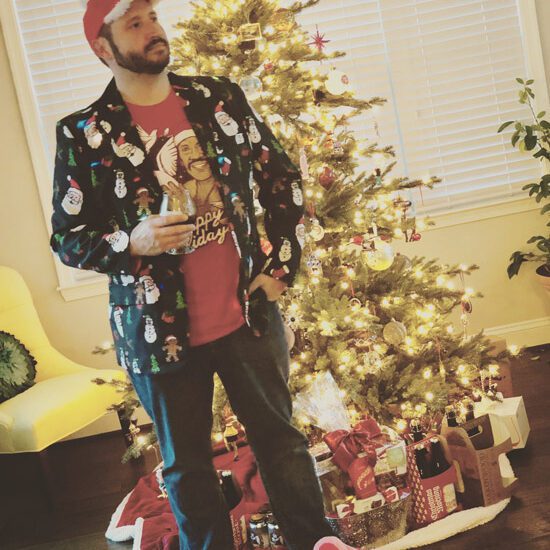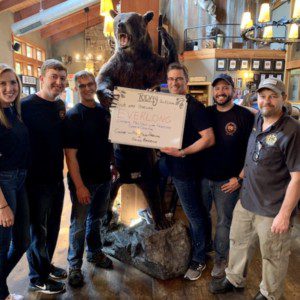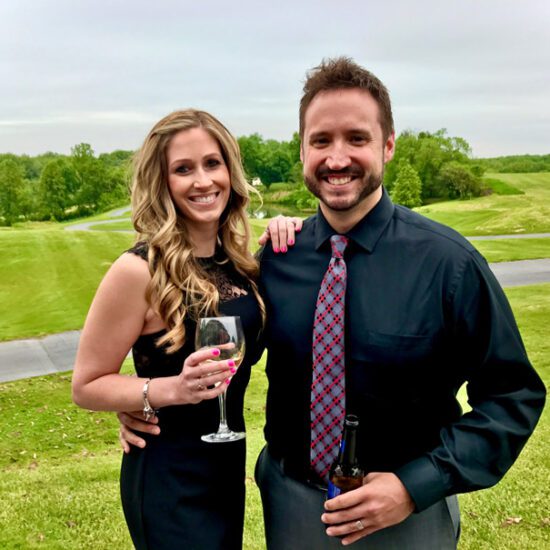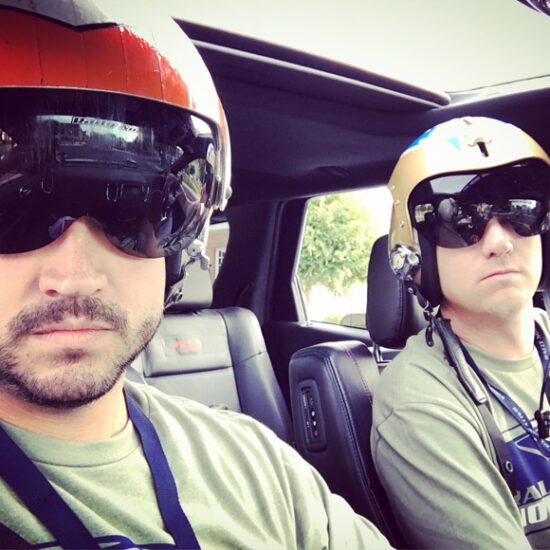 Thanks for meeting Brian. As always, stay tuned for next month's Pepper Talk to meet another member of our team!