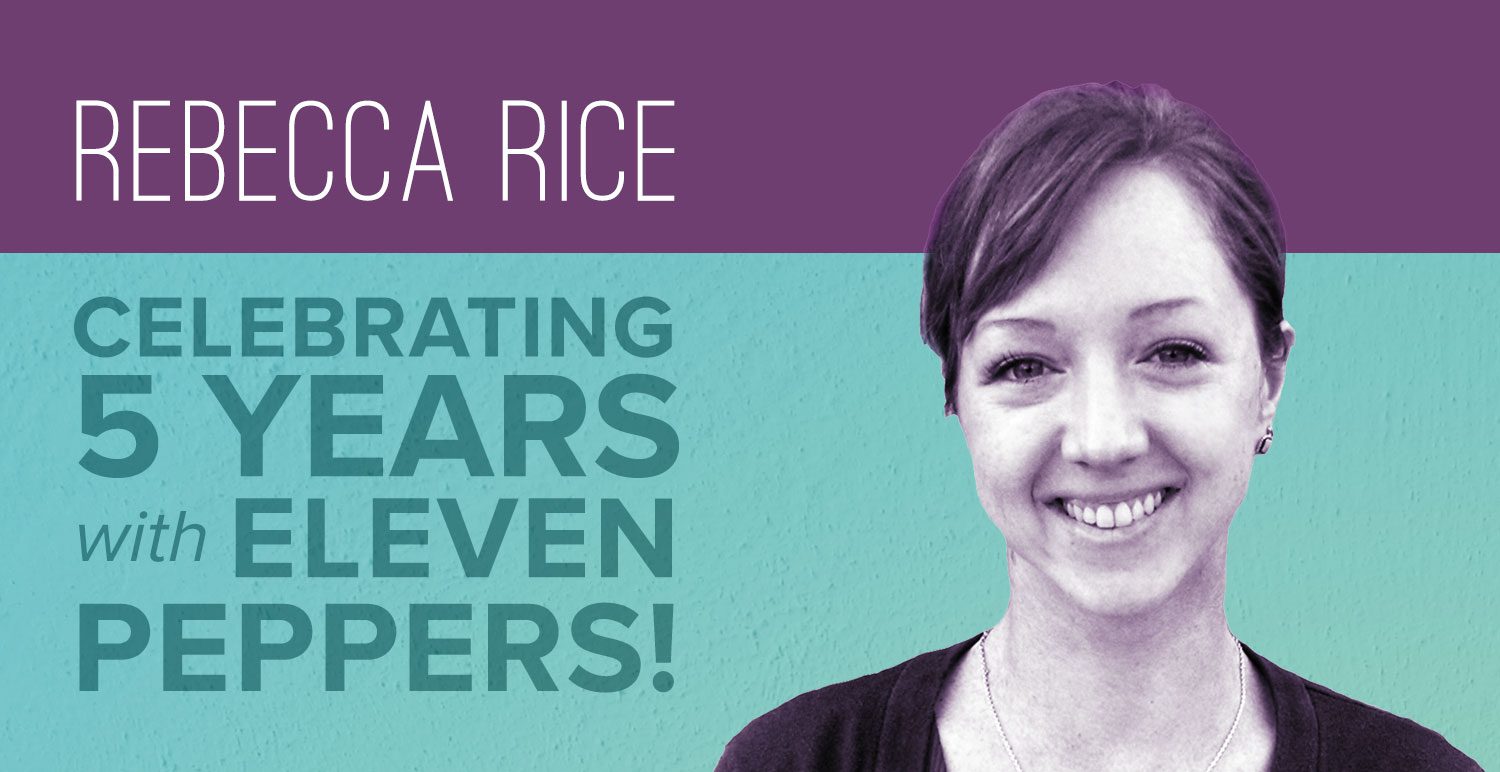 Celebrating 5 Years: Rebecca Rice
And just like that, it's been 5 wonderful years! We're thrilled to celebrate Rebecca Rice's 5th Pepperversary!
Rebecca Rice is a Senior Designer whose tackled both commercial and government clients while working at 11p. She is truly a queen of all trades! Her vast skill set (illustration, design, UX, web and video) makes her a huge asset to any team she's on. She's sort of like the Bo Jackson of the design world… Not much Rebecca doesn't know.
Speaking of sports… She's also a fierce competitor on the ice. In her spare time, she competes on multiple co-ed hockey teams and has been known to win a championship or two. Other (less intimidating) hobbies include: wedding videographer, fine art illustrator, house fixer upper and bunny Mom. We're so grateful that Rebecca Rice chose Eleven Peppers to grow her design career!
To learn more about Rebecca, keep scrolling to read our special interview and infographic!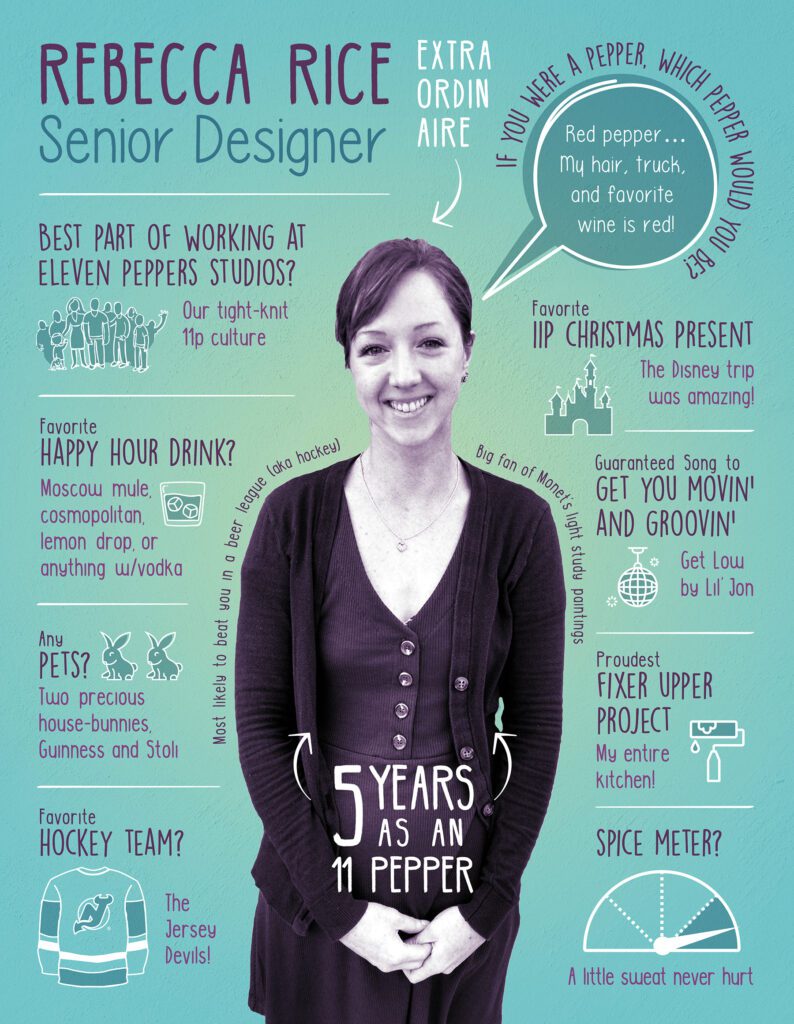 1. Best part of working at Eleven Peppers Studios?
Everyone is always there for one another, whether you're close with certain individuals or not. I think the tight-knit culture is something that all small business strive to have, but I have yet to see a company that executes it as well as 11P.
2. If you were a pepper, what type would you be and why?
My hair is red, my truck is red, the best hockey teams are red, my favorite wine is red. I think I'd be a red pepper.
3. What is a favorite 11P event?
Going to Circles in Texas during my 30th birthday was off the chain.

4. What is your favorite Christmas present ever received from 11P?
The Disney trip was an amazing gift!
5. What is your favorite 11P memory?
All the Xmas parties are great memories. It's the one time of year when everyone can get together and catch up on life.
6. Name a Pepper you can always lean on for support or advice:
Lauren Fulp. I sit on contract with her where she's blowing design out of the water without much prior experience.
7. Name a Pepper whose work or work ethic inspires you:
Melissa London. Whether it's about work, design, fashion choices, men, mixed drinks – girl knows her stuff.
8. My spice meter :
Complete wimp
Will proceed with caution
A subtle flame
A little sweat never hurt
The spicier, the better!
Getting to know Rebecca a little better...
1. Who is your favorite hockey team?
The Jersey Devils!
2. If you could meet any hockey player, who would it be?
Taylor Hall – my current favorite player.
3. What is your favorite happy hour drink?
Moscow mule. Cosmopolitan. Lemon drop. Anything with Vodka.
4. Guaranteed song to get you movin' and groovin'?
Get Low' by Lil Jon.
5. Any pets? If so, do they do tricks?
I have two precious house-bunnies, Guinness and Stoli <3 <3 <3 <3 They come running when they're called or when they hear a treat bag crinkle.
6. If you could put any painting in your house, what would it be?
I really like Monet paintings. His light studies of The Houses of Parliament are probably my favorites.
7. Proudest fixer upper or DIY project in your house?
I'm most proud of redoing my entire kitchen!
8. Any secret talents or hobbies? If so, what?
When it's 1am and I get home from a late game of whooping-ass on a bunch of old men in the beer league, I lay on the floor with my bunnies and cuddle them as I whisper sweet-nothings into their ears.