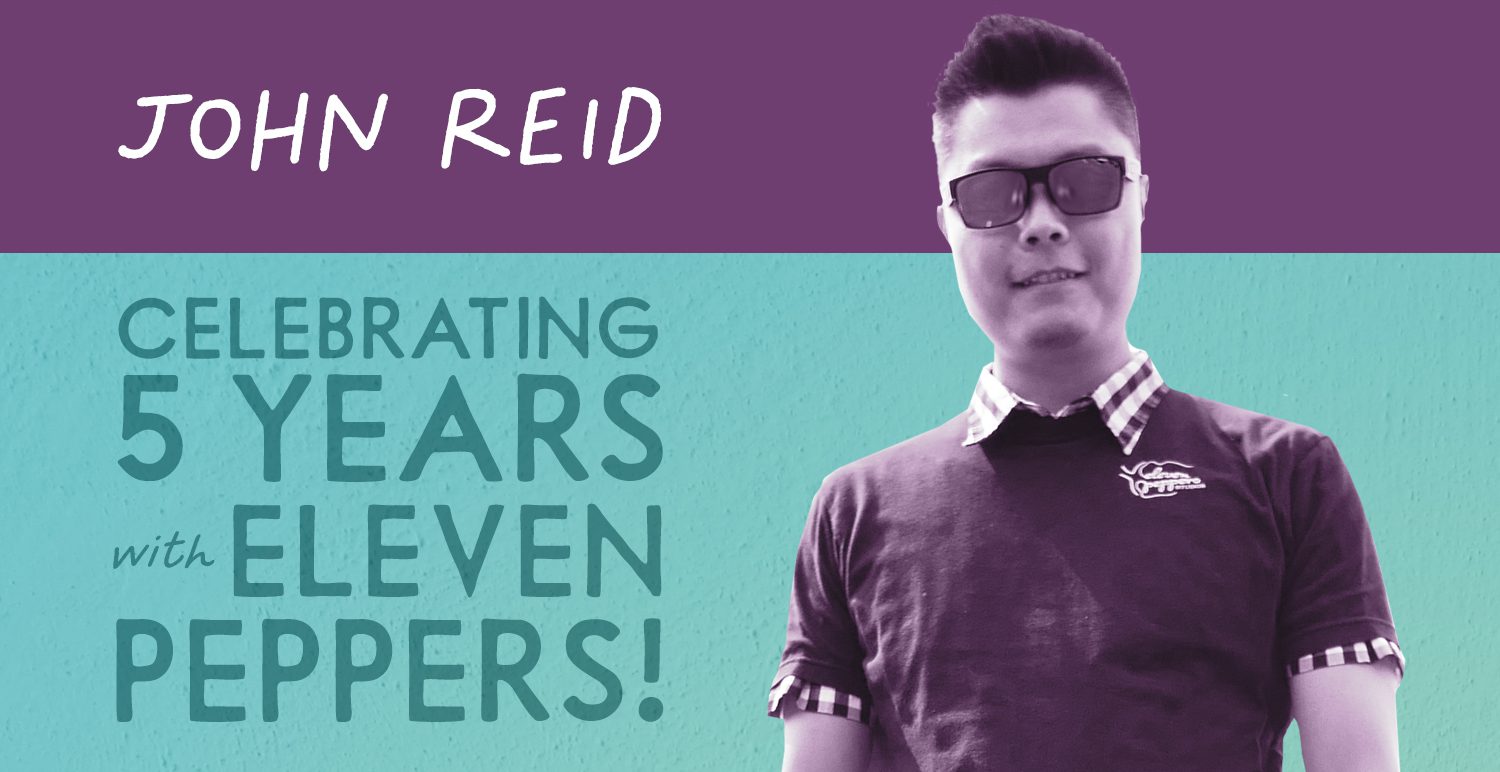 Celebrating 5 Years with John Reid
We're getting close to rounding out 2020 – but not before we celebrate a very special 5 Year Pepperversary for John Reid!
John is a very detailed-oriented designer that loves to go off-roading in his Jeep, watch sports, and eat pizza! Known for his great sense of style, you'll always see John looking sharp.
To learn more about John, keep scrolling to read our special interview and infographic!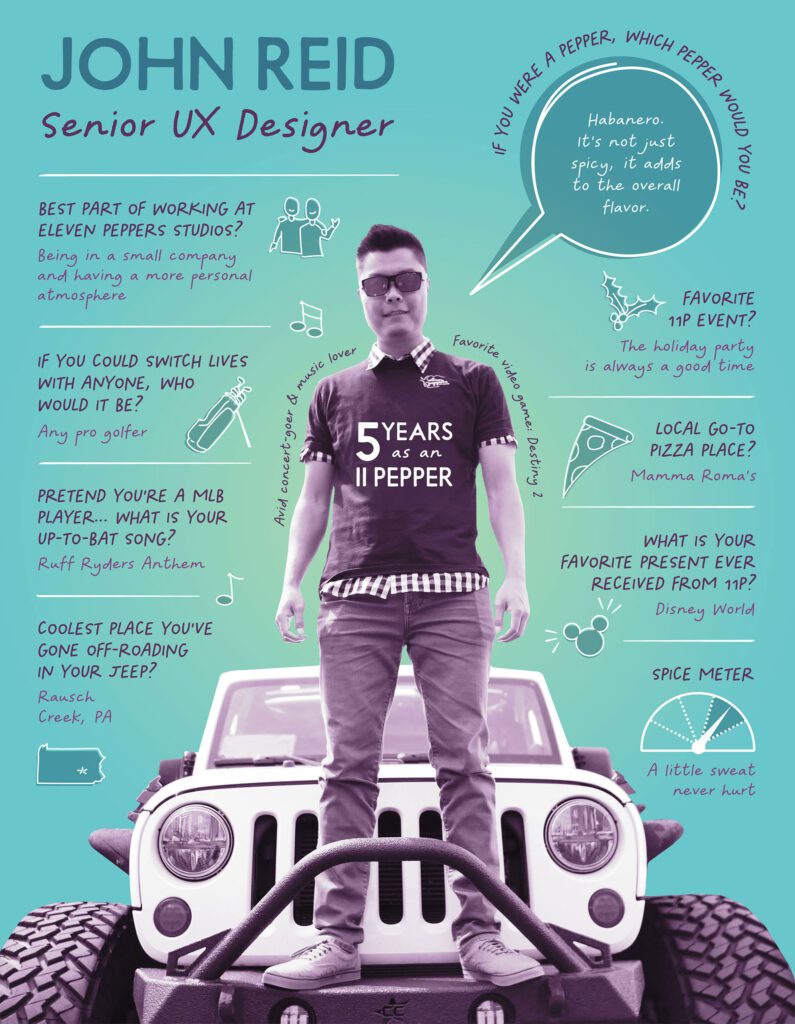 1. Best part of working at Eleven Peppers Studios?
Being in a small company and having a more personal atmosphere. You can get lost and overlooked in a larger company.
2. If you were a pepper, what type would you be and why?
Habanero. It's not just spicy, it adds to the overall flavor.
3. What is your favorite 11p event?
The holiday party is always a good time. Get to catch up with everyone and the venues have been great.
4. What is your favorite present ever received from 11p?
Disney World!
5. What is your favorite 11p memory?
D I S N E Y W O R L D
6. Name a Pepper you can always lean on for support or advice:
Peppercorn (black pepper). I mean it's solid, dependable, and you can use it on everything – chips, fries, steaks, burgers, chicken… Alright but seriously, Christina Cumberland. I mean, we have been friends for 15 years. Also solid and dependable.
7. Name a Pepper whose work ethic inspires you:
Melissa London. As inspiring as her tremendous talent is, she doesn't rely on that to get her by. She always puts in an equally inspiring level of management and effort.
8. My spice meter :
Complete wimp
Will proceed with caution
A subtle flame
A little sweat never hurt
The spicier, the better!
Getting to know John a little better...
1. Where is the coolest place you've ever gone off-roading in your Jeep?
Rausch Creek, Pennsylvania. It's really the only place I've taken it but it is a 3,000 acre park.
2. If you could only play one video game for the rest of your life, what would it be?
Destiny 2. This is kind of a cheat answer though because they just keep updating and expanding the same game.
3. Who is the most epic band or singer you've seen live?
I can't just name one. I've seen Paul McCartney, Foo Fighters, Blink-182, Twenty One Pilots (x3), ODESZA (x3), Childish Gambino (x2), and Linkin Park to name a few. They were all epic for their own reasons.
4. Let's pretend you're a ML baseball player…What is your up-to-bat song?
Ruff Ryders Anthem (hoping it's for the O's)
5. What's the coolest thing you've made by hand?
I made a mandala of Walt Disney when I attended college. I've also made a few cool Maryland signs.
6. We hear you like pizza…Where is your local go-to?
Mamma Roma's. It's literally the closest pizza place to my house.
7. Any secret talents or hobbies we don't know about?
I've been told that I have a knack for impromptu arrangement of charcuterie boards. I also like to collect refrigerator magnets from places I travel to.
8. What's your favorite sports team?
Orioles, Ravens, Caps, Terps.
9. If you could switch lives with anyone, who would it be?
Any professional golfer. They play golf for a living and get to travel around.