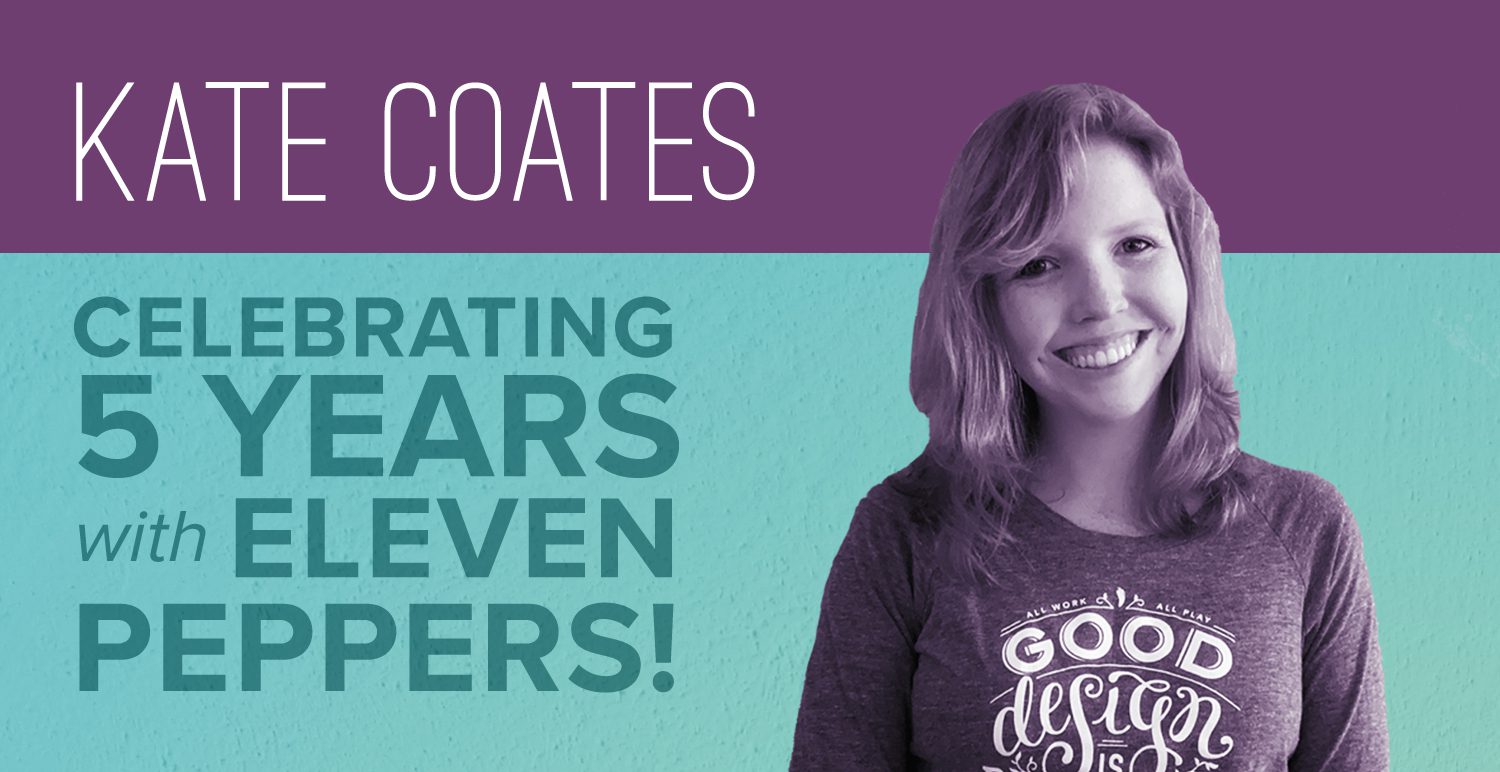 Celebrating 5 Years with Kate Coates
And just like that… Kate Coates has officially been a Pepper for 5 years!
Kate is a master of all trades – from renovating her 1908 home, to raising her little boy, teaching at UMBC and participating in dog competitions with her Silken Windhound, Izze – she can do it all!
Kate is an extremely detail-oriented designer, keeps very cool under pressure and is known to her coworkers as the logo queen! She is very low key, humble, and easy going.
To learn more about Kate, keep scrolling to read our special interview and infographic!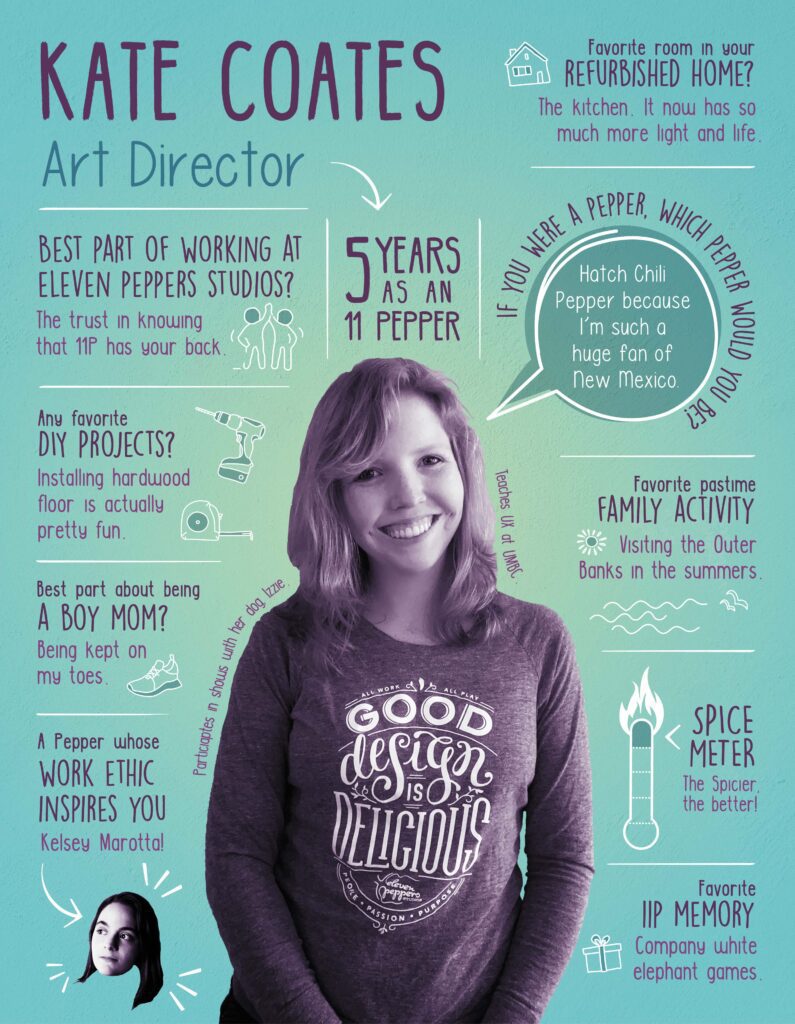 1. Best part of working at Eleven Peppers Studios?
The trust in knowing that 11P has your back.
2. If you were a pepper, what type would you be and why?
Hatch Chili Pepper because I'm such a huge fan on New Mexico. Plus I could eat Tex Mex every day, all day and never get tired of it.
3. What is your favorite 11p event?
I really enjoyed the glassblowing event where we made pumpkins and ornaments. I had never done anything like that before it was really neat to see how it is done.
4. What is your favorite present ever received from 11p?
While I've received so many nice things from 11P, it's honestly one of the smaller things that stands out the most. The Fogo de Chao gift card that I won at the company White Elephant (sorry Rich) was used to drop the news to my parents and in-laws that we were expecting our first child. Great memories!
5. What is your favorite 11p memory?
I always really enjoyed the company White Elephant game at the Christmas Parties. It was a fun little competitive game that got everyone laughing in no time.
6. Name a Pepper you can always lean on for support or advice:
AC. Always a friendly and listening ear and a really good secret keeper when I found out I was pregnant while on our work trip to California.
7. Name a Pepper whose work ethic inspires you:
Kelsey. How she balances the crazy early mornings, intense exercise regiments, a full time job, and now teaching, I'll never know!
8. My spice meter :
Complete wimp
Will proceed with caution
A subtle flame
A little sweat never hurt
The spicier, the better!
Getting to know Kate a little better...
1. What is your favorite TV series of all time?
The miniseries 11.22.63 starring James Franco on Hulu was a surprisingly awesome little show that I can't recommend enough. It's about a high school teacher that travels back in time to prevent John F. Kennedy's assassination.
2. Which room is your favorite in your refurbished 1908 home?
Hands down, the kitchen. While it was (and remains) the biggest room in the house it was really gross when I first moved in. The vintage 1908 sash windows didn't want to stay open themselves and were not positioned in a way where you could see the beautiful backyard. The white paint haphazardly painted on the cabinet exteriors had to yellow with age, matching the beige colored porcelain tile. The previous owner hadn't even cared to extend the white paint to the interior of the cabinets, exposing the brown varnished wood and wallpapered shelves. As I said, it was really gross.
We did a ton of work and with the help of my architect father, redesigned the space. We demo'd everything down to the studs and built everything back new. We installed free custom cabinets that we got off of one of my dad's residential jobs. We blew a hole in the rear wall to add a full glass panel door to have a view of and easy access to the backyard and installed charcoal slate-looking tile throughout. Ultimately, the room has so much more light and life to it now. And now all things that are meant to be white are is just icing on the cake!
3. Do you have any favorite DIY projects?
Installing hardwood floor is actually pretty fun. I'd take that over installing tile floors any day of the week.
4. How many shows has your dog competed in?
My Silken Windhound, Izze, and I have participated in three shows at this point. It took us a while to get in a groove and by the third show she beat out several other dogs to walk away with Best in Breed and 2nd in the Sighthound class. We're hoping to get two more competitive wins so she can be a UKC Champion. We'll see when COVID decides to let us get back out there.
5. What's one of your favorite assignments to give your students?
The class that I teach at UMBC is one big culminating project that students work the whole semester on. Each student picks their own project and then we go through the entire life cycle of a UX project from analysis through design. It's really fun to see really bad websites transformed into thoughtful designs. Great portfolio pieces!
6. What was the most challenging part of getting your Masters in UX?
Group work in the real world isn't bad but for some reason group work in school never goes as expected. Grad school was full of various group assignments that had varying levels of teammate participance. Groups were by far the most challenging part of grad school, thesis included.
7. What do you love about being a boy mom?
Being kept on my toes. Honestly, it's both a blessing a curse. This boy doesn't stop, like ever! But when I think of how many calories I'm burning without going to the gym it makes me feel a whole lot better. (Plus chasing Alden around is much better than the gym.)
8. What's your favorite pastime activity with your family?
I've always loved visiting the Outer Banks in the summers with family. It's always great to catch up during the week with people you don't see enough.
9. Any hidden talents or hobbies?
I'd love to discover some when I find time!