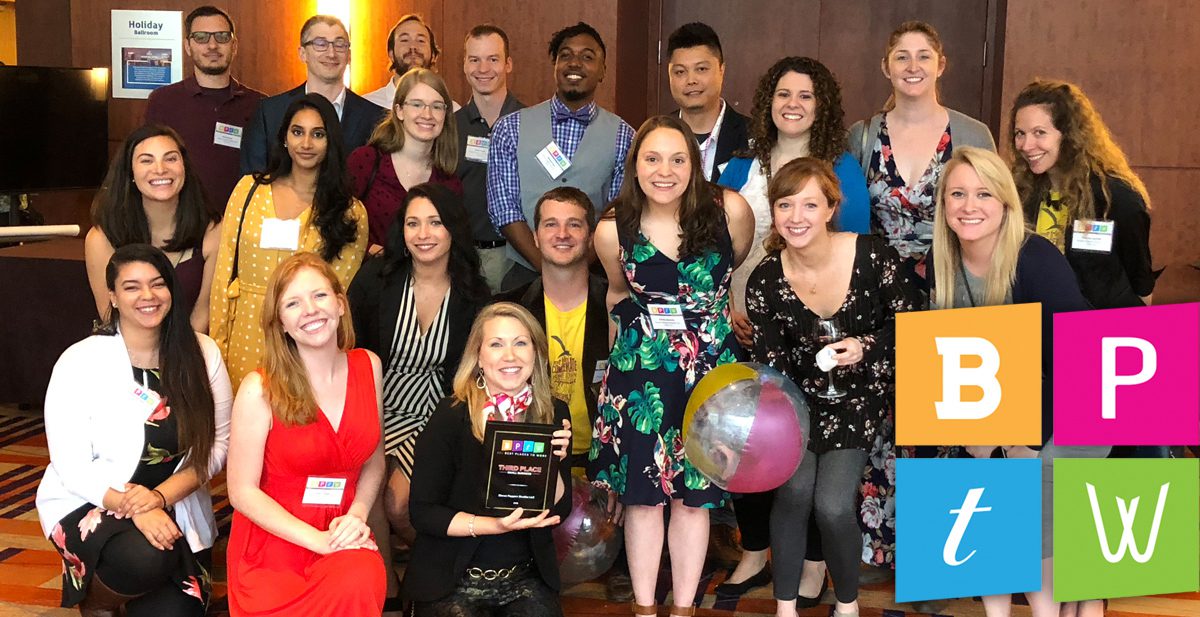 From Finalist To Winners!
On Thursday, May 17th, Eleven Peppers Studios was awarded Third Place in the Small Business category for Baltimore Business Journal's "Best Places to Work" competition. We are honored to be recognized among so many other talented companies in the city of Baltimore. Thank you to everyone that voted and had great things to say about Eleven Peppers Studios. We wouldn't be here if it wasn't for all of you!
As part of the Best Places to Work awards process, the Baltimore Business Journal posed the following question to several of our employees:
If you were pitching your company to a potential hire, what is one fun fact you would share?
"I would inform our potential hire that not only does Eleven Peppers focus on creating outstanding work, but they also recognize the importance of the well-being of their employees. As designers, it's very easy for us to get burnt out creatively. Eleven Peppers is an agency that recognizes this and encourages maintaining a steady work-life balance. This is a company that never makes you feel like "just a number" and it is full of supportive people that constantly look out for one another. As a result of this, we create some of our best work and form great relationships with happy clients." – Ashley Philip, Designer
"Joining Eleven Peppers is like becoming part of a welcoming and caring family. It's the kind of company where always people look out for one another and are willing to lend a helping hand. Our passion for what we do comes through both inside and outside of the workplace. From family picnics to artistic endeavors to sporting events, there's always something fun going on. I'm so proud to be part of such a creative and talented group of people!" – Debbie Williams, Senior User Experience Architect
"I usually get asked where our company name came from or what it means. The short answer I give is, "Have you ever had dinner at a restaurant and the food was so delicious that you wanted to go back and get the exact same meal?" (I have…many times!) Design is very similar. Once something is designed well, you want more! Then I usually tell them how everything in our company is 'pepper-related'. When a new hire starts, we usually ask them, "What kind of pepper are you?" Our company newsletter is called the "Spice of Life" and when we get together for happy hours, we tend to call them 'pepper' hours." — Ryan Kelly, Senior User Experience Designer
"We are more than just a company, but a lot like an extended family. We hang out a lot outside of work, for fun Pepper coordinated events like bowling, O's games, Paint Night, Picnic's, and even a trip to Disney World. We also tend to hang out just for fun. Whether it be cookouts at each others houses, going to movies or musicals, trips to breweries, or even homebrewing together." — David Meade, Senior User Experience Designer
First place… we're coming for you next year!