2018 Gift Guide: Last Minute Ideas for Creatives
Shopping for the Creatives Pros in your life can be tricky. I mean really, how many soft-brush marker pens could they possibly need? All of them… at least that's the answer I've found most accurate. Well today, I am bringing you an all-inclusive Gift Guide that will cover ANY type of creative on your list! Oh, and did I mention they are all Amazon Prime eligible? So, even if you're like me and wait until the very last minute for the "perfect" idea to magically pop into your head, you'll be covered.
All product names and descriptions will be linked at the bottom… PS this is in no way affiliated, we just love these products and wanted to share… HERE WE GO!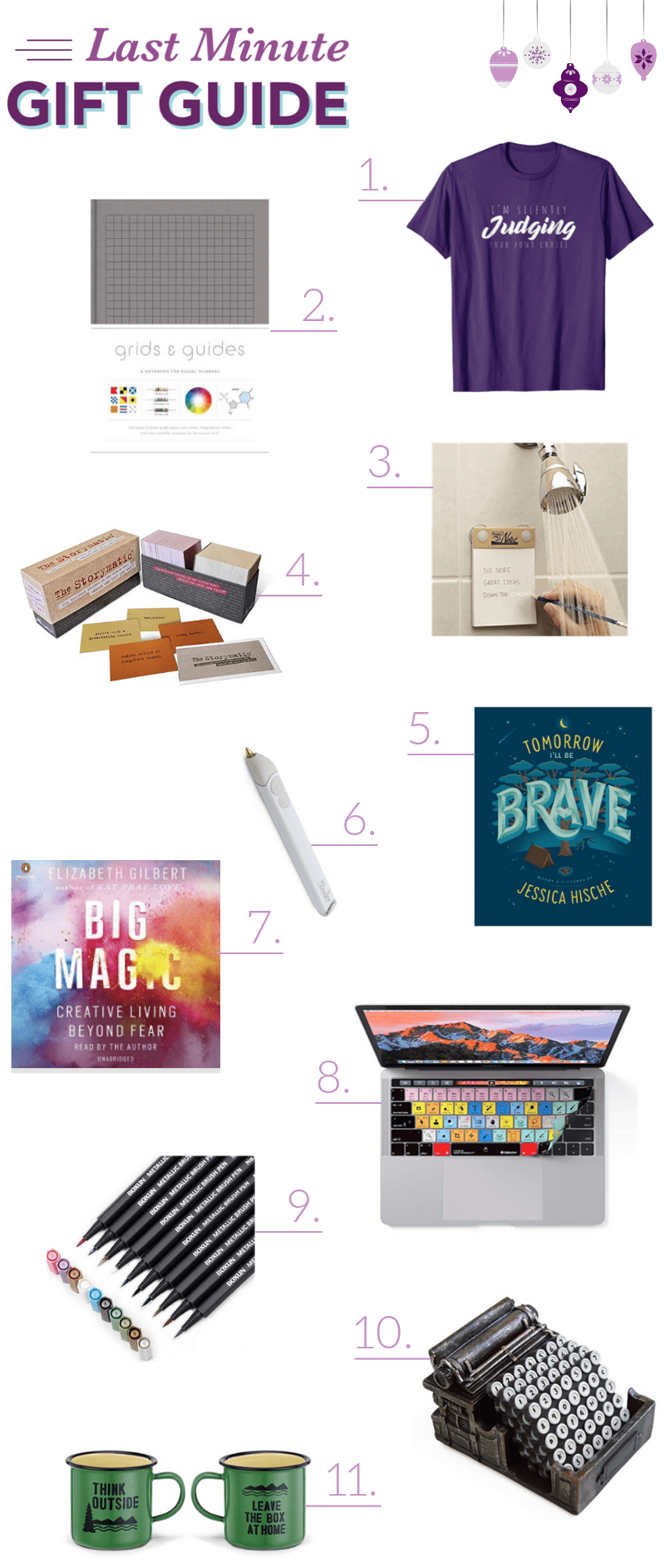 1. For the Typography Lover: The "I'm silently judging your font choice" t-shirt is perfect for your overly-enthusiastic font lovers and judgers and comes in men, women, and youth sizes.
2. For the Visual Thinkers: This classic, cloth-covered Grids and Guides notebook provides 160 pages of varied grid designs with a handful of illustrations and graphs dispersed throughout. Just as suitable for capturing to-do lists as it is sketches.
3. For those who Get their Best Ideas in the Shower: We've all had it happen, you think of something ingenious only to have it fly out of your brain before you can write it down. Never again, well, at least not while you're in the shower. Aqua Notes, thank you for solving the age-old problem in at least one room of the house.
4. For the Storyteller: The Storymatic Classic includes 540 unique prompt cards to help unlock your imagination. This is a wonderful gift for content creators, writers, or even those who just like to tell a good story.
5. For Kids: Tomorrow I'll Be Brave by Jessica Hische is a beautifully illustrated book that encourages kids to look towards tomorrow, to dream big, to promise to do new things.
6. For 3D Artists: Here's one for all of our 3-dimensional medium artists or really anyone, because it is just so fun! The 3Doodler Create Pen is such a unique and versatile gift, great for all ages and skill level.
7. For the Dreamers: Know someone who needs a creativity pep-talk? Maybe you are that person, I know I am. Big Magic by Elizabeth Gilbert delivers just that. Gilbert shows us how to push past our fears and be brave in our creative abilities.
8. For the Graphic Designers: This Adobe Illustrator Keyboard Hot Keys Silicone Skin will have your friends spending less time remembering shortcuts and more time creating!
9. For the Illustrators: Okay, well it wouldn't be a Gift Guide for Creatives unless I threw in some Brush Marker Pens… and these are Metallic!
10. For the Lover all things Retro: You know the person… saved the first edition Nancy Drew novels from her parent's house and prefers real books over audio books. This throwback Typewriter Coaster set will please any retro home decor lover.
11. For Anyone: Had to throw in a mug, it is getting colder after all. This Think Outside, Leave the Box At Home mug is a wonderful, daily reminder for any creative to just break through any boundary or "box" in their way.
I hope you found this guide helpful, please tag us on social media (Instagram|Facebook) if you know someone who would love one of these gifts. Happy Prime-ing everyone!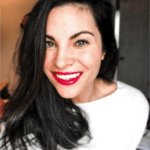 Written by
Katie Burns
Holiday Lover, Digital Marketing Manager at 11P, Laughs at Her Own Jokes.