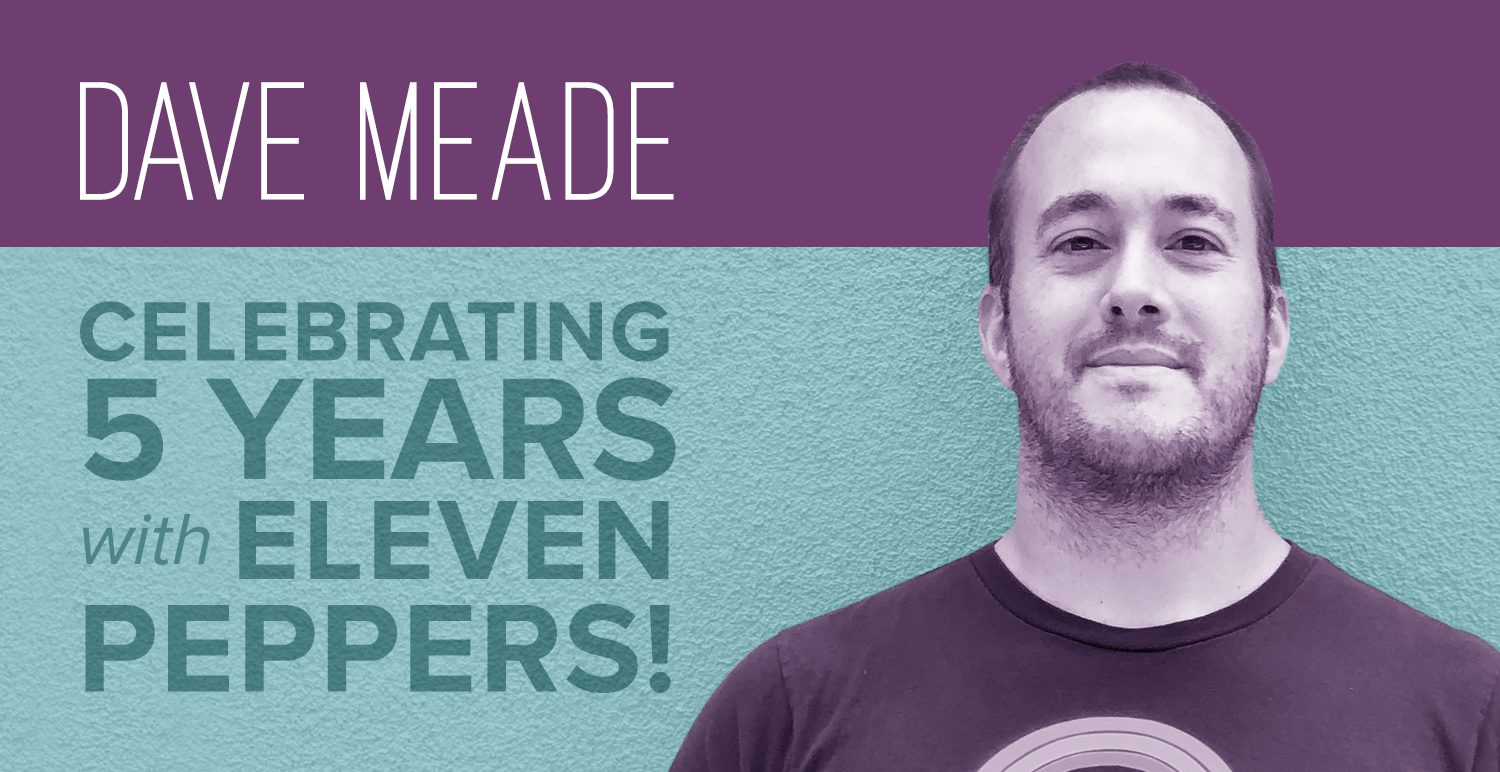 Celebrating 5 Years: Dave Meade
We have some exciting news this month at Eleven Peppers! We have our very first five year work anniversary, David Meade, Senior UX Designer. David started with 11p as the first full-time employee on August 12, 2013. He took a leap of faith and joined Kristen to create a name for a "small fries" company that was simply a vision, a dream, a concept– and the rest is history. It has been an amazing journey with Dave and we continue to appreciate his quick wit, talent and craft beer recommendations. Check out this graphic for more info about Dave, and read our special interview: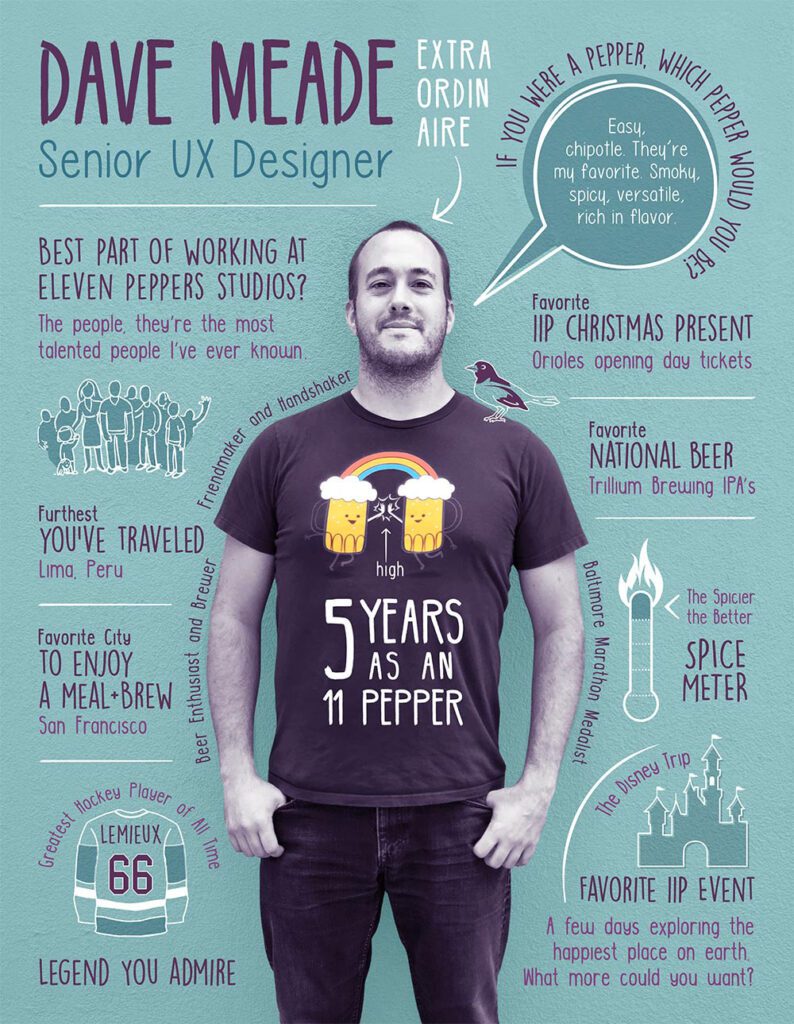 1. What do you like most about working at 11P?
This question is about as tough to answer as if you asked what my favorite beer was (foreshadowing). I guess if I had to sort through all the great things such as the amazing owners, the awesome Pepper events, and the engaging projects, I would have to pick the people that make up the company. They're a collection of some of the most talented people I've ever known, and I'm lucky enough to not only call them coworkers, but also friends.
2. What is a favorite 11P memory (in words or in sketch)?
There's a plethora of fantastic memories over the past five years, but I think signing the offer letter was one of the best and happiest moments of my life.
3. What is your favorite Christmas present ever received from 11P?
Finally, an easy question! Hands down, it was my Kate Spade purse, which a pepper stole at the white elephant gift exchange, so I chose another box, which was another purse, which was stolen, but finally, I ended up with the perfect gift. If you know me, you know this gift couldn't have been any better. It was Orioles opening day tickets, section 11, seats 10 and 11, and the ending couldn't have been any more perfect. The O's fought a hard battle, and in the bottom of the 11th inning, they won it with a walk-off homerun. You just couldn't write a better script.
4. What is your favorite 11P event?
I think it's easy to say the Pepper Disney trip was the best Eleven Peppers event. The fact that we were flown to Florida, put up in a hotel, and we got to spend a few days as a company exploring the happiest place on earth, what more could you want? Mickey ears and Dole Whip? Yeah, we got that too!
5. If you were a pepper, what type of pepper would you be and why?
Easy, Chipotle. They're my favorite. Smoky, spicy, versatile, rich in flavor. I don't know if or how any of that pertains to me, but it's my favorite pepper, so I've claimed it.
6. Name a Pepper you can always lean on for support or advice:
This is another tough question because I am good friends with many of the Peppers and have leaned on most of them at one point or another over the past five years. If I had to pick one, it's the obvious one, Theresa. She's in my corner everyday, helping me through any issues I may have, whether they're inside or outside of work, and she keeps me focused and inspired.
7. Name a Pepper whose work or work ethic inspires you:
Besides Kristen and Bryan who tirelessly work day and night to ensure we're all happy in our careers and love our job, I would have to throw a curveball and say Kate Rodman. I say curveball because we've never worked together, but I've heard how hard and efficiently she works, and I've been privileged enough to see some of her designs. Her talent is truly inspiring, and somehow she has the energy to continue designing in her free time. She has even had a piece published. She is so accomplished at such a young age, and I think the best is yet to come.
8. My spice meter :
Complete wimp
Will proceed with caution
A subtle flame
A little sweat never hurt
The spicier, the better!
Getting to know Dave a little better...
1. Where is the furthest you've traveled from home?
Theresa and I took a trip to the ocean side town of Lima, Peru where we enjoyed some of the best, fresh fruits and vegetables we've ever had, and even took a cooking class. We also hiked the Inca Trail to Machu Picchu. Truly epic.
2. Where is your favorite city to enjoy a meal and a crafty brew?
San Francisco has to be my favorite, with its vast variety of international cuisines and some of the best breweries in the nation, there's no better place to get a bite and a beer, and then walk it off on those hills!
3. How many marathons have you run?
I have only run one marathon, but I have run several half marathons around the country.
4. Which marathon was your favorite to run?
The Baltimore Marathon was my favorite, and only marathon. I knew I wanted my first 26.2 to be in my hometown. I was fortunate enough to run it with my fellow Pepper, friend, and inspiration, Kelsey.
5. If you could create and produce your own line of craft beer, what would you call it and what would it taste like?
I struggle with this all the time. I want to come up with a creative name that captures a little bit of who I am, and my loves in life: food, my friends, art, music, and the outdoors. If anyone can come up with a good name, please, let me know! As for what it would taste like, that's just as diverse as my interests. I want to create high quality beers inspired by the foods that I love. Sours, IPAs, Stouts, all infused with fruits, spices, herbs, and anything else I can come up with. Again, I'm open to suggestions!
6. What is your favorite local beer?
It's between RAR and Jailbreak. They both are producing a lot of very interesting and exciting beers. RAR's best are easily their IPAs, but they made a sour with passionfruit, pineapple and habanero that was fantastic. Jailbreak is very adventurous with their beers too, using fruits, veggies, and peppers in many of their beers. Their barrel aged imperial stout, Dusk til Dusk is one of the best beers ever produced in Maryland, in my opinion.
7. What is your favorite national beer?
Trillium Brewing in Boston probably makes my all time favorite IPAs, but The Veil in Richmond is right up there with them, and they make some fantastic, heavily fruited sours, and a stout aged on oreos. Yes, you read that right, an Oreo stout, and it actually tastes like Oreos!
8. If you could cheers any living or deceased legend, who would it be and why?
There are so many inspiring people that have lived, and still live, that I would love to meet. I'll just pick one of the many and say Mario Lemieux. The former Pittsburgh Penguin took his passion to the highest level to become one of the greatest hockey players of all time. He won two Stanley Cups as a player. When he found out he had cancer, he saw that as another challenge, fought hard, and not only beat it, but shortly thereafter returned to the ice. When it was time to hang up his skates, he decided to take his passion to the front office, saving the team from moving out of Pittsburgh, bringing them to four more Stanley Cups, winning three. What's more inspirational is that he started a foundation to raise money for cancer research, and to build numerous hospitals for children who are battling cancer. He is involved in the community and a man who takes that passion to better his community and help people who are facing the same struggles he did.
9. Any secret talents or hobbies?
Although brewing beer is a talent and hobby, I can't say it's much of a secret anymore. I guess my secret talent is making friends. Just about everywhere I go, I end up making friends. Even when we're on vacation in another state, or another country, I make new friends. The best part is that these friendships last and grow. You never can have too many friends.