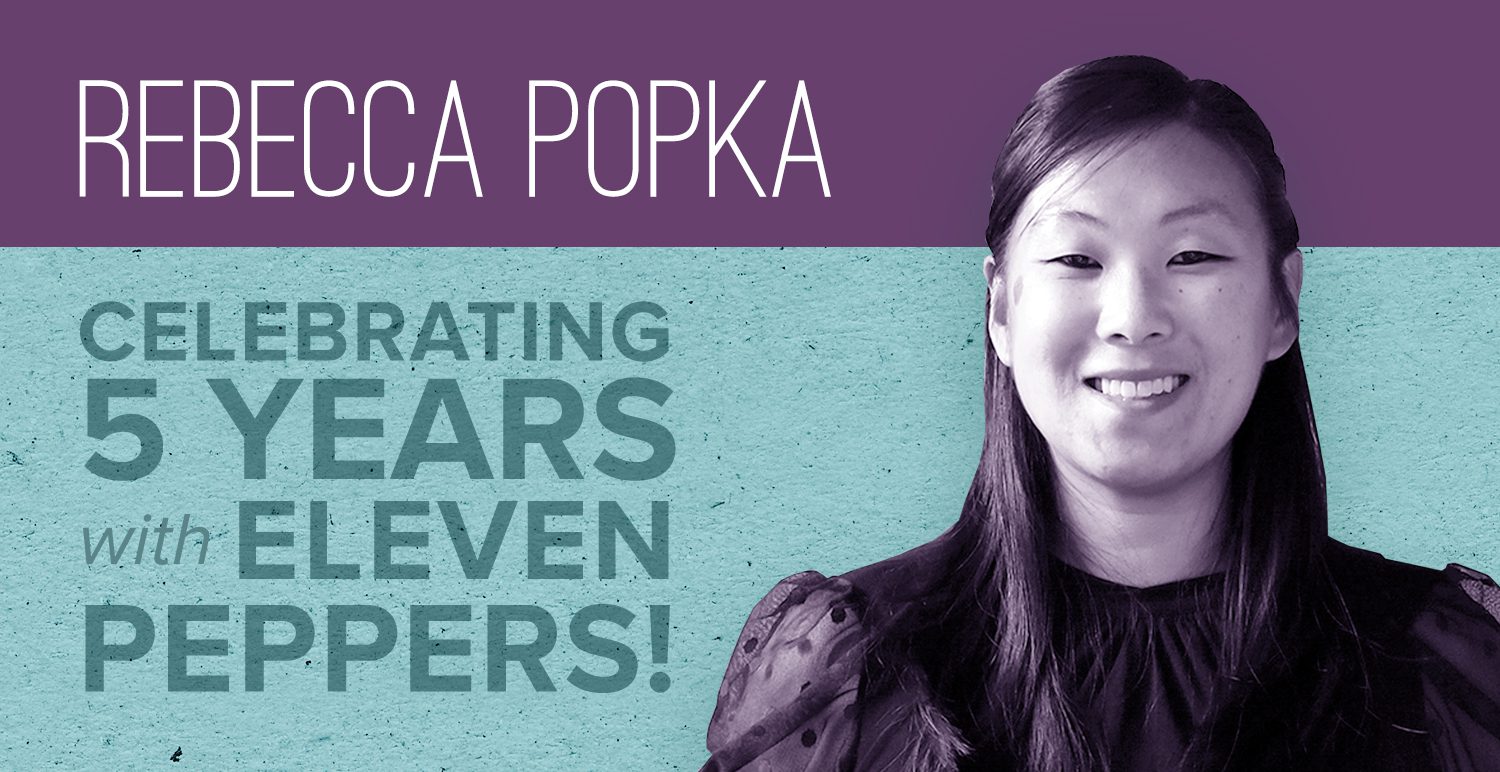 Celebrating 5 Years: Rebecca Popka
Could the end of 2018 get any better? Multiple promotion announcements, holiday get-togethers, and our SECOND 5 Year Pepper-versary!!! This time we are celebrating the wonderful Rebecca Popka. Rebecca (or Popka as we fondly call her) also took a leap of faith as our first Commercial Team employee, working hand-in-hand with owner Kristen Parks. Rebecca worked on everything from 11p in-house marketing efforts and social media, to client branding projects and full website redesigns. Rebecca's commercial team work even earned her an ADDY award for her 11p holiday hot chocolate kit design. Since then, Rebecca continues to wow and amaze her clients and teammates with her incredible talent and work ethic. We're so lucky to have her in the pepper family! Check out this graphic for more info about Rebecca, and read our special interview: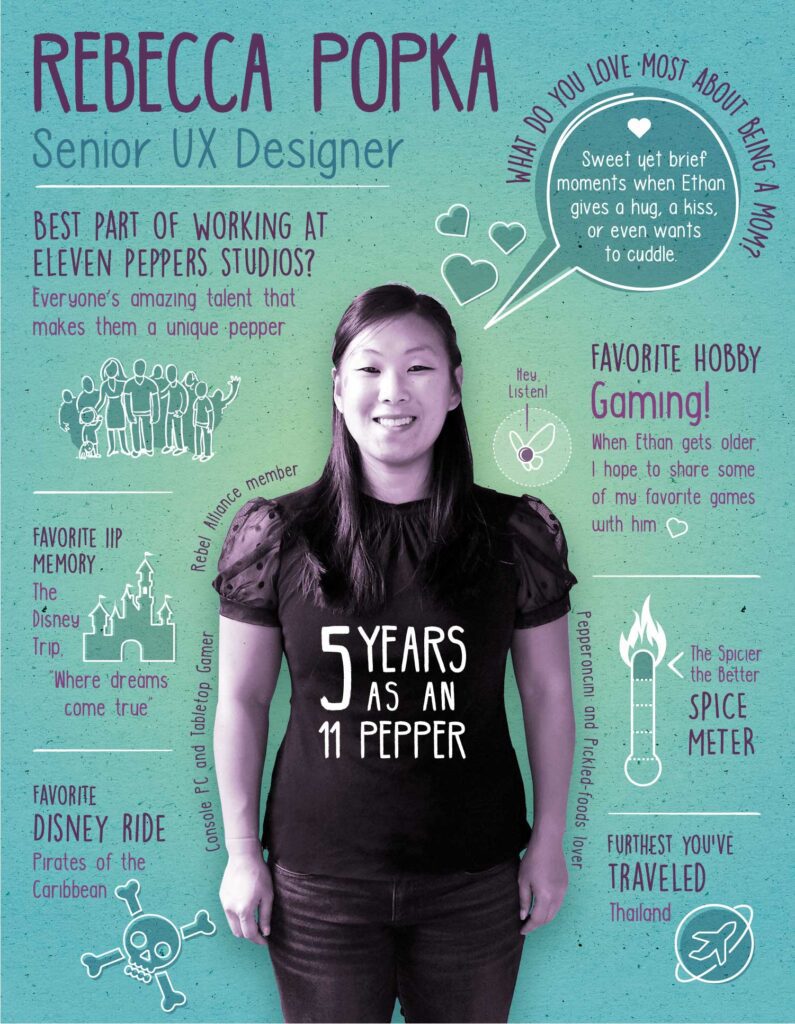 1. What do you like most about working at 11P?
I love everything about 11p but what I like the most is everyone's amazing talent that makes them a unique pepper.
2. What is a favorite 11P memory (in words or in sketch)?
The most memorable was the wonderful opportunity to visit Disney, "Where Dreams Come True," to celebrate the company's 5thanniversary.
3. What is your favorite Holiday present ever received from 11P?
Hands down Walt Disney World, which was a complete surprise.
4. What is your favorite 11P event?
I've always been an avid gamer so when 11p announced a game night I was ready for some table top fun. There were a lot of new games I never played before that I enjoyed like Telestrations and One Night Ultimate Werewolf.
5. If you were a pepper, what type of pepper would you be and why?
A Pepperoncini. It's a common pepper with a dash of spicy that's been pickled, which is a favorite thing of mine (picked foods).
6. Name a Pepper you can always lean on for support or advice:
11p is a unique company with a close-knit family of peppers who are always supportive and there for any type of advice. The pepper chat channel has always been my go-to for creative guidance.
7. Name a Pepper whose work or work ethic inspires you:
Kate Rodman is an incredible illustrator whose passion and amazing talent is beautifully moving. Her work is always inspirational.
8. My spice meter :
Complete wimp
Will proceed with caution
A subtle flame
A little sweat never hurt
The spicier, the better!
Getting to know Rebecca a little better...
1. If you could pick 2 fonts that you had to work with forever, which would they be?
Helvetica Neue and Cambo.
2. What design trend do you wish would just die already?
Bevel and emboss, especially when new Photoshop users discover this "effect".
3. What designer/artists do you admire?
I really like the artist René Magritte, a Belgian surrealist who captured thought-provoking images that challenges a viewer's perception of reality. He had a distinct and creative way of displaying ordinary objects out of context, giving new meanings to familiar things.
4. What do you love most about being a mom?
Watching my son grow and learn new things is exciting but what I really love is the sweet yet brief moments when he gives a hug, a kiss, or even wants to cuddle.
5. What did you do for Thanksgiving?
Cancun, fun in the sun – drinks, a spa day, and some tasty tacos al pastor.
6. We know you're an avid Disney World fan, what is your favorite ride?
Ever since I was little, I've always loved the Pirates of the Caribbean ride even before the popularity of Jack Sparrow. Being immersed in their story while listening to the catchy music in the dark has always been a favorite of mine. One day I would love to experience Shanghai Disneyland's ride, Pirates of the Caribbean: Battle for the Sunken Treasure, as the visual effects look incredible.
7. If you could dine with any Disney character, who would it be?
As a fan of Star Warsit's got to be Han Solo and Chewbacca in Maz Kanata's castle on Takodana listening to their adventures as smugglers and joining the Rebel Alliance to Restore the Republic.
8. Where is the furthest you've traveled from home?
I've traveled to a lot of different places but the furthest I've gone is to Thailand. The plane ride alone was about 24 hours (not counting layovers)…loooongest travel day EVER but well worth it. It was great traveling to different cities, sight-seeing, and eating a ton of delicious food even the infamous durian, not a fan.
9. Any secret talents or hobbies?
Before having a baby I loved gaming. Anything from table top to console to PC gaming, which for each I enjoyed playing Geister Geister Schatzsuchmeister, The Legend of Zelda, and World of Warcraft. I would even host a game night every couple of months but post baby most of my time is now occupied entertaining him. When he gets older I hope to share some of the games that I've always enjoyed with him.