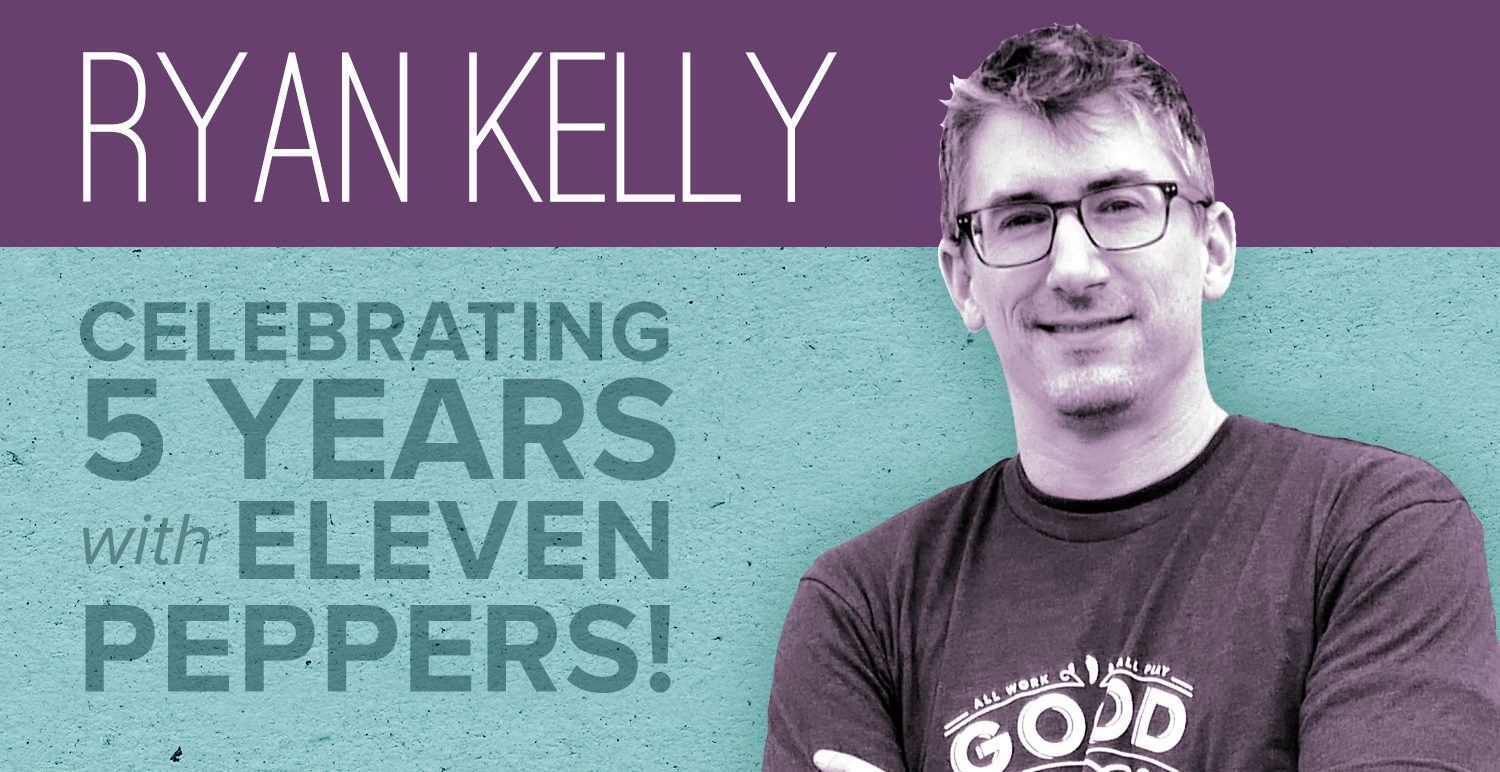 Celebrating 5 Years: Ryan Kelly
Today we are celebrating another five year work anniversary, Ryan Kelly, Senior UX Designer. Ryan has been a critical part of our UX team for the last 5 years, sleighing any UX task that comes before him, and known for his friendly, upbeat personality.
He's also a talented illustrator, often seen with a sketchbook in his hands, doodling or drafting up the next logo or practicing his hand lettering. Check out this graphic for more info about Ryan, and read our incredible interview: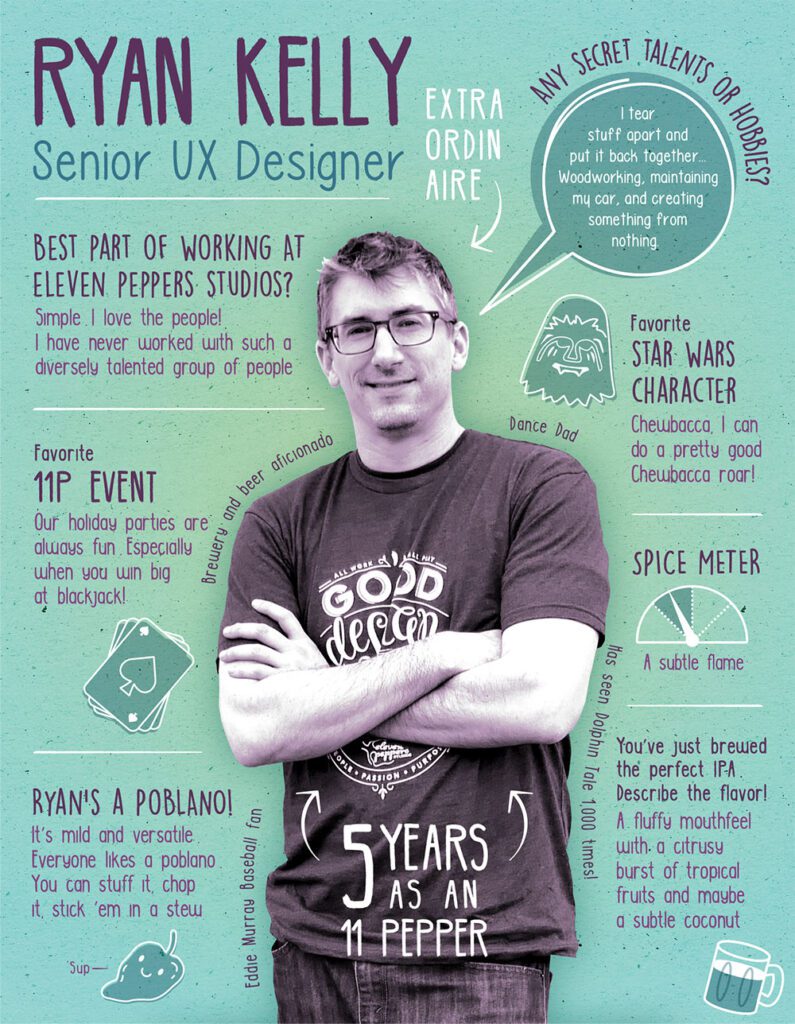 1. What do you like most about working at 11P?
Simple. I love the people! We're fun, exciting, and freaking talented! I have never worked with such a diversely talented group of people. That alone, is inspiring…and motivating! Our company is run by wonderful people who make it their priority to put us first no matter what. I've worked for both small and large companies and by far, Kristen and Bryan got it right.
2. What is a favorite 11P memory?
Visiting Atlanta for the HOW Conference. So many memories made during that weekend! From spending time with friends to walking away truly inspired and ready to crank out some awesome creative stuff!
3. What is your favorite Christmas present ever received from 11P? Technically the Squatty Potty was an employee white elephant gift. So probably the Disney trip. Duh!
Jesse Evans brought a Squatty Potty to our holiday party white elephant gift exchange. I got it. Someone stole it from me. Luckily, Albert also brought the same gift! But unfortunately someone stole that one too. I think I ended up with some Goslings Rum.
So yeah, Disney.
4. What is your favorite 11P event?
Needless to say that our holiday parties are always fun. Especially when you win big at blackjack! The Parks definitely know how to throw a party. It's great to get all the peppers together since we don't get to see each other all the time.
5. If you were a pepper, what type of pepper would you be and why?
Poblano. It's mild and versatile. Everyone likes a poblano. You can stuff it, chop it, stick 'em in a stew.
6. Name a Pepper you can always lean on for support or advice:
Krista Cochran. Krista's the type of person you can totally open up to. She became a pepper in 2015 and went straight to work on our UX team and instantly, a life-long friendship was created. We might have been regulars at a local sandwich shop for lunch. Codename: DOGPOUND
7. Name a Pepper whose work or work ethic inspires you:
Melissa "the Don" London. The Don's work ethic is legendary. I hear her name whispered from time to time between our customers. No joke, the new team I'm on brought me an example of a brochure she designed and asked us to "do something like this." Now those were big shoes to fill.
8. My spice meter :
Complete wimp
Will proceed with caution
A subtle flame
A little sweat never hurt
The spicier, the better!
Getting to know Ryan a little better...
1. Favorite Star Wars character and why?
Chewbacca. Well, I can do a pretty good Chewbacca roar.
Other reasons:
Chewbacca sounds from everyday objects
10 best Chewbacca quotes
2. You've just brewed the perfect IPA. Describe the flavor. What it's called?
*The perfect hazy NEIPA…
It's called "Floccinghell, this is good!"
The reference is from yeast "flocculation." And I might sometimes say this after sipping a perfectly crafted NEIPA.
The description: A fluffy mouthfeel with a citrusy burst of tropical fruits and maybe a subtle coconut.
Thirsty now aren't you…
3. Favorite local brewery? Favorite national brewery?
Local: Sapwood Cellars in Columbia – the owners are known nationally for their skill and pushing the limits. We're lucky to have them so close!
National: The Veil in Richmond – Every single beer they put out is perfect. And their taste in artwork is pretty cool too. They put on the best festival I've ever been too called the Forever Summer Festival. You must attend if you like craft beer!
4. Name your favorite all-time Orioles player.
This may be a shock to some people, but no not Ryan Flaherty (or Ron Flattery as he's called by some lower shoremen). Eddie Murray – He played first base and could hit from both sides of the plate. His stats are amazing. He's why I chose to play first base growing up.
5. If you were a pro baseball player, what would your up-to-bat walk-up song be?
Wake up, Rage Against the Machine
6. Favorite daddy/daughter time event?
She is a dancer. It doesn't matter where we are. Out of nowhere she will come up to me, grab my hands, and get me to do a quick dance move (usually spin her) and go about her way. It could be while shopping in the mall, the middle of Baltimore Inner Harbor, or on our way to her tee-ball game. I love this and hope that she never stops doing it.
7. How many times have you watched your daughter's favorite movie (estimate), and what is it?
Well, her favorite movie changes from time to time…but we have watched "Dolphin Tale" over 1,000 times. She loves dolphins (probably because her god-mama, Aunt Erica does as well). We went to the Baltimore Aquarium during Fleet Week one year and she wanted to go down to talk to the dolphin trainers. She asked 100 questions and told them she wanted to save dolphins one day.
8. Favorite movie of all time?
Usual Suspects. "I'll flip ya fa real."
9. Any secret talents or hobbies? If so, what?
I consider myself a craftsman. I tear stuff apart and put it back together. I like woodworking, maintaining my car, and creating something from nothing to hang on a wall. Side note: my Jetta currently has 275,000 miles and I've done all the maintenance on it. I'm a little proud of that.